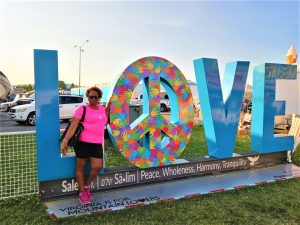 The Salem Fair closed out its 33rd year at the Taliaferro Complex on Sunday night and fair officials say that attendance and revenue were once again very steady. The 2021 edition of America's Largest Free Gate Fair produced 12 days of entertainment despite some post-pandemic uncertainly, a few bouts of rain and an unexpected act of violence on opening night.
"Our fair fans are very loyal, and their loyalty was tested this year more than ever," says Wendy Delano, Salem Director of Civic Facilities. "We appreciate everyone working with us on the necessary updates to our admission policy and security measures, after the fair was already underway, and for not letting a senseless incident define the region's most popular summer attraction."
While attendance is not tracked through direct admission, the fair again welcomed several hundred thousand visitors from the many different hometowns in Virginia's Blue Ridge region between June 30 and July 11. In fact, July 4 was the second busiest day in Salem Fair's history and July 3 was the fifth busiest day all-time.
"It was obvious that people were glad to get back on the midway after missing the cancelled fair in 2020," says Carey Harveycutter, Salem Fair Manager. "Some of our concessionaires ran out of food because demand was so great. When you are running out of popcorn and pork chops on a stick you know people are spending significant funds and enjoying themselves."
Local non-profits once again benefitted from the Salem Fair's promotions in 2021. The Roanoke Rescue Mission received over 1,000 pairs of socks from patrons and nearly 4,000 pounds of non-perishable food was donated to the Salem-Roanoke County Food Pantry. In addition, the Roanoke Valley chapter of Sleep in Heavenly Peace will receive a generous donation from Northwest Ace Hardware stores thanks to advance sales of the Megapass unlimited ride ticket.
The Blue-Ribbon exhibits, under the direction of Melissa de Pineda, were restricted to just first place displays this year, due to COVID, but the winners received increased exposure by having their entries displayed in the Salem Civic Center's main arena. 
Submitted by Mike Stevens, City of Salem Communications Directo