By Meg Hibbert
Contributing writer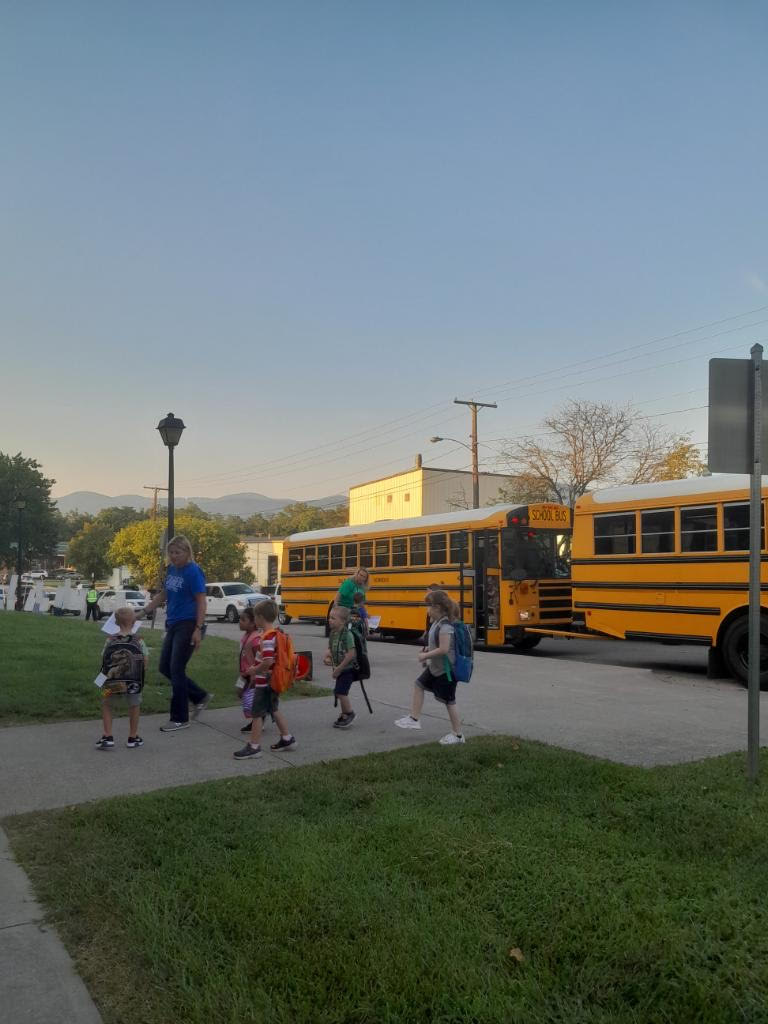 More than 3,600 students returned to school in Salem Monday, with smiles, new notebooks, backpacks and excitement over a new year.
"We had a very smooth opening, especially when you consider the effort that went into Salem High ready to open after construction," said new Salem Schools Superintendent Curtis Hicks, after his first opening day as superintendent.
"There are always a handful of transportation delays on the first week of
 school," Hicks continued, "but we did not experience anything out of the ordinary. All in all, it was a great start to Salem's 40th year as an independent school
 division." 
Before that, Salem Schools were part of Roanoke County's education system.
Hicks noted this was the first "normal" school year for rising ninth graders since they were in fifth grade, because of COVID 19.
As at Salem's other three elementary schools, SHS and Andrew Lewis Middle School, students started arriving early at G.W. Carver Elementary at 7:20, getting off buses and out of parents' and grandparents' cars.
Teachers were outside to meet them, in front of a grassy area filled with welcome back posters created by Fellowship Church members for teachers.
"Monday was a fabulous day at Carver," said Principal Kristyn Schmidt. "I love seeing all the smiling faces on students and teachers. Several students told me the summer was too long and they were so glad to be back at school," she added.
West Salem Elementary Principal Amanda Gibson was similarly excited about the first day. 
"Our faculty, staff, students and families made our 70th school opening memorable for sure. It was great to see so many smiling faces eager to start school today, and we are looking forward to having a wonderful school year together," Gibson said.
Salem High School was open as an almost-new school, with a completely redone front area and lockers, ventilation system and roof.
Construction started before the end of last school year.
Superintendent Hicks pointed out that the unusually hot weather presented some heating, ventilation and air conditioning issues Monday, "but we were able to get those resolved and eventually get SHS and the middle school cooled properly."
Salem has six schools. In addition to Carver and West Salem elementary schools, they are South Salem and East Salem, the high school and middle school.
Roanoke County Public Schools started classes Aug. 11. Those in the Salem area are Fort Lewis Elementary, Glenvar Elementary, Glenvar Middle School, Glenvar High School, Masons Cove Elementary and Burton Center for Arts & Technology, across the street from East Salem Elementary.
Salem and Roanoke County schools will be closed for Labor Day Monday, Sept. 5.