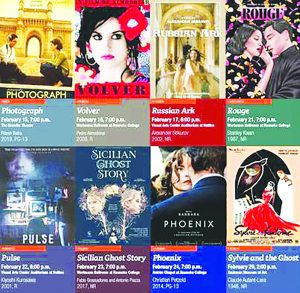 Series is presented by Roanoke College, Hollins University
The 5th Annual Roanoke College International Film Series, presented in collaboration with Hollins University, started yesterday with a lineup of films centered on the theme of ghosts.
The screenings, which are being hosted across multiple campus and community venues, are designed to promote intercultural exchange, learning and world cinema among both students and the wider region.
In total, eight films will be shown between Feb. 15 and Feb. 26. Each screening is free, open to the public and subtitled in English. Panel-led discussions with the audience and faculty members will be held after each film.
"Film is a powerful vehicle of culture," said Teresa Hancock-Parmer, a Spanish lecturer with Roanoke College and committee chair for the film series. "The International Film Series encourages our students to engage with the cultures of the languages that they study and get that multi-layered exposure and language input."
The International Film Series was first launched in 2019 as an initiative of Roanoke College's Department of Modern Languages. Key partners in the program include Hollins University, Roanoke Valley Sister Cities, the Grandin Theatre and the Taubman Museum of Art.
The college said the event works to cultivate cross-cultural learning and dialogue. 
"The series also builds community," Hancock-Parmer said. "We want community members to come. Afterward, we invite people to come together to discuss the films and share their thoughts. So, we get to build those connections both within the Roanoke College community and beyond."
Each film series is organized around a unifying theme that adds depth to the experience by encouraging audiences to reflect on how an issue is dealt with across different cultures. This year's theme, ghosts, was the top pick of the organizing committee.
"Hollins University is thrilled to partner with Roanoke College on this year's international film series on the rich and provocative theme of 'ghosts,'" said Nathan Lee, assistant professor of film at Hollins. "All of cinema is a kind of haunting, as images captured in the past float and glimmer on screen. I'm particularly excited to be screening the sublime Russian Ark — one of the most extraordinary films ever made — at Hollins, as well as the supremely spooky Pulse, a movie that dramatizes millennial anxieties about the 'ghosts in the machine' of network culture."
This year's lineup: 
"Volver" (2006)
Screening: 7 p.m. Thursday, Feb. 16, in Wortmann Ballroom (Roanoke College)

Language: Spanish

Runtime: 121 minutes

Rating: R

Details: This comedy-drama, directed by the acclaimed Pedro Almodóvar, tackles difficult themes of sexual abuse, death, and family secrets. Penélope Cruz stars as Raimunda, a working-class woman forced to go to great lengths to protect her 14-year-old daughter, Paula. Raimunda's dead mother, Irene, also mysteriously reappears. The film, which Roger Ebert praised as "enchanting, gentle, transgressive," won two awards — Best Actress and Best Screenplay — at the 2006 Cannes Film Festival where it premiered.

Panelists: Charlene Kalinoski and Juan Manuel Portillo
"Russian Ark" (2002)
Screening: 6 p.m. Friday, Feb. 17, at Visual Arts Center auditorium, Room 200 (Hollins University)

Language: Russian

Runtime: 159 minutes

Rating: Not Rated

Details: A sumptuous cinematic experience and experimental historical drama, with a cast of over 2,000 actors and three orchestras, director Alexander Sokurov's extraordinary masterpiece is a unique journey through time and Russian history. Filmed entirely in the State Hermitage Museum in St. Petersburg, this groundbreaking film recreates 300 years of history in a single, unedited, feature-length take. Sokurov's camera glides through 33 rooms of the Hermitage, moving in and out of cathedral-like galleries, opulent ballrooms and shadowy corridors and workrooms covering three centuries of Russian history and European art. 

Panelists: Nathan Lee and Tatyana Munsey
"Rouge" (1987)
Screening: 7 p.m. Tuesday, Feb. 21, in Wortmann Ballroom (Roanoke College)

Language: Cantonese

Runtime: 96 minutes

Rating: Not Rated

Details: "Rouge" bridges past and present in its tragic romance between a humble courtesan (Fleur) and the wayward scion of a wealthy family (Chan), who embrace death by suicide pact amid the opulent teahouses of 1930s Hong Kong. Fifty years later, Fleur returns to the city-state to find her lover, who never showed up in the afterlife. When she posts a newspaper advertisement, she draws a young contemporary couple into her quest to rekindle a passion that may be as illusory as time itself. With its lush mise-en-scène and transcendently melancholy mood, this sensuous ghost story directed by Stanley Kwan is an exquisite, enduringly resonant elegy for both lost love and vanishing history. 

Panelist: Stella Xu
"Pulse" (2001)
Screening: 6 p.m. Wednesday, Feb. 22, at Visual Arts Center auditorium, Room 200 (Hollins University)

Language: Japanese

Runtime: 119 minutes

Rating: R

Details: An apparent suicide in Tokyo triggers a chain of mysterious disappearances involving computers in writer-director Kiyoshi Kurosawa's creepy techno-thriller. As ghosts invade the world through the Internet, many more people vanish. The film inspired a 2006 English-language remake. 

Panelist: Nathan Lee
"Sicilian Ghost Story" (2017)
Screening: 7 p.m. Thursday, Feb. 23, at Wortmann Ballroom (Roanoke College)

Language: Italian

Runtime: 122 minutes

Rating: Not Rated

Details: Directed by Fabio Grassandonia and Antonio Piazza, in this film, in a little Sicilian village at the edge of a forest, 13-year-old Giuseppe vanishes. Luna, his classmate who loves him, refuses to accept his mysterious disappearance. She rebels against the code of silence and collusion that surrounds her, and to find him she descends into the dark world which has swallowed him up and which has a lake as its mysterious entrance. The film, inspired by true events, is dedicated to the memory of Giuseppe Di Matteo, a victim of Mafia violence. 

Panelist: Giuliana Chapman
"Phoenix" (2014)
Screening: 7 p.m. Friday, Feb. 24, in Antrim Chapel (Roanoke College)

Language: German

Runtime: 98 minutes

Rating: PG-13

Details: This evocative and haunting drama, set in rubble-strewn Berlin in 1945, is like no other film about post–World War II, Jewish-German identity. After surviving Auschwitz, a former cabaret singer (Nina Hoss) has her disfigured face reconstructed and returns to her war-ravaged hometown to seek out her gentile husband, who may or may not have betrayed her to the Nazis. Without recognizing her, he enlists her to play his wife in a bizarre hall-of-shattered-mirrors story that is as richly metaphorical as it is preposterously engrossing. Revenge film or tale of romantic reconciliation? One doesn't know until the superb closing scene of this marvel from director Christian Petzold, one of the most important figures in contemporary German cinema. 

Panelist: Rob Willingham
"Sylvie and the Ghost" (1946)
Screening: 2 p.m. Sunday, Feb. 26, at the Taubman Museum of Art

Language: French

Runtime: 98 minutes

Rating: Not Rated

Details: Director Claude Autant-Lara enters the realm of pure fantasy with this film, conceived during the German occupation and released after World War II. Odette Joyeux stars as Sylvie, in love with a long-dead romantic figure from her family's past. Sylvie's father hires three actors to impersonate the ghost of her beloved, while the spirit himself (Jacques Tati) stalks the grounds. Marrying a playful script, artful special effects, and wistful performances, 

Sylvie et le fantôme

 stages a delicate dance of enchantment. 

Panelists: Jeanne Jégousso & Matthew Trumbo-Tual
-The Salem Times-Register