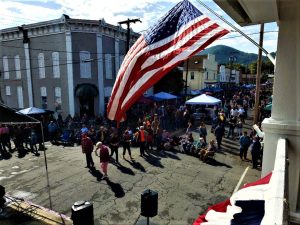 Pam Dudding, contributing writer
When news broke that the Annual Craig County Festival will be happening this year, many residents went to Facebook and responded with positive comments.
The Craig County Historical Society recently announced that the annual occurrence, now in its 38th year, will be held on Saturday, October 9, from 9 am to 5 pm on Main and Court Streets in New Castle.
"Lenny Macdonald has agreed to emcee the event along with David Givens who will be handling all the entertainment and events of the day. Dr. Jackie Scruggs Taylor is presenting the annual car show which has been a huge success year after year," Robyn Foster, festival organizer, said. "We have a few new surprises for this year and will share them as the event draws closer."
Givens is searching for entertainment for the day and can be reached on Facebook for those who have an interest or know of someone to suggest.
This year, booth spaces of 10 feet x 10 feet of sidewalk and street may be rented for $35. If more than ten feet is needed, additional space may be rented. Regardless of weather, the Fall Festival will be held. Additionally, no refunds will be granted.
Electricity is limited; however, individuals can indicate on their application that they need it, along with the size of their tent and what items they will be selling or showing.
For setup, a Society member will be on Main Street by 6 a.m. to direct everyone to their space. Exhibitors must furnish all materials needed. They ask that table fronts be draped to the sidewalk.
"We also request that vendors sell only those items that are healthy and safe for our children and our community," Foster said. "No alcoholic beverages will be allowed."
Each space will be asked to be kept clean during the day and the Society will furnish trash bags. All vendors, however, will be responsible for cleanliness and trash removal. Please break down any large boxes and keep trash secured. All materials and equipment must be removed by the vendor at the end of the day and a dumpster will be located across from the Craig County Administrator office for easy disposal.
To reserve a space, contact Foster for an application. The check or money order can be made to the Craig County Historical Society.
Those who register by September 1, can get the early bird rate of $45.00. Afterward, it is $50. Registration ends September 30. For more information, contact Robyn Foster at 540-977-8395.
The Fall Demolition Derby has also been scheduled for that evening, along with the little tikes Power Wheels Derby and the younger teens and tweens Lawnmower Derby.
"The Craig County Historical Society is really looking forward to this event and bringing back the history of Craig County and sharing the legacy of our beautiful homeplace," Foster said.