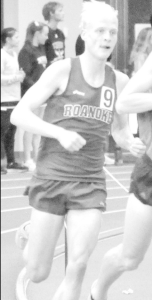 The Roanoke College men's indoor track & field team hosted its first meet of 2023 with the Finn Pincus Invitational last weekend. Over 800 athletes came to the Cregger Field House over the weekend for the two-day event. Among the highlights was a school record performance by Cooper Neeble in the 300 meters. Neeble crossed the finish line in a time of 8:36.61 to finish fifth, breaking the record of 8:37.35 previously set by Harrison Toney in 2015.
Other highlights for the men included Brandon Heffinger with a second in the 500 and Samuel Crawford with a fourth in the 200. The 4×400 relay team of Hunter Bohon, Heffinger, Brady Fowler, and Crawford won the event with a time of 3:27.58, nearly 3.5 seconds ahead of second place Bridgewater.
For the women, Hannah Snodgrass made it through prelims and finished fourth in the finals of the 60 hurdles with a time of 9.16. Haylee Gamble finished third in the 400m with a time of 1:00.48 and Kim Roden was fourth in the high jump.
Grace Fowler was fourth in the weight throw at 14.37m. In the 4000m distance medley the team of Ashley Brown, Zoe Dunlap, Abby Casen, and Lauren Brown finished fourth (15:00.19). The 4x400m relay team of Lauren Henson, Haylee Gamble, Maryrose Molina-Shuman and Mikayla Hefferon finished runner-up with a time of 4:11.22. Roanoke will hit the road for the first time this season when they travel to the Steamer Showcase at Wittenberg in Ohio this Saturday.