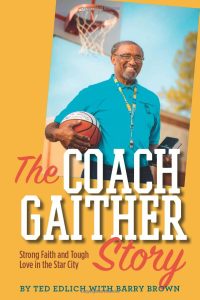 Join the authors of "The Coach Gaither Story:  Strong Faith and Tough Love in the Star City" on Tuesday, Feb. 28 at 6 p.m. at the Salem Public Library for a presentation on the life and influence of Salemite Joe Gaither.The book details Coach Gaither's journey from a youth basketball player to a nationally renowned coach whose dedication to working with the underprivileged youth in Roanoke City through basketball inspired and provided a life-changing role model for players and leaders in the Roanoke Valley and beyond.  
Coach Gaither learned to play basketball on the court next to Shiloh Baptist Church, played basketball for G.W. Carver prior to desegregation and Andrew Lewis High School after. He began his coaching career volunteering in the Inner City Athletic Association (ICAA),  served as the JV Coach for William Fleming High School, and then Head Coach at Roanoke Catholic School and influenced the lives of up to 2000 players throughout his whole coaching career.  
Authors of the book are Ted Edlich, Barry Brown with consulting editor, Dave Russo, life-long friends of Coach Gaither. 
The first 25 attendees will receive a free copy of the book.    
New digital additions to the Salem Public Library website
Access the New York Times digital edition for free from the databases link on the Salem Public Library website (www.salemlibrary.info).  Practice your Wordle game, NY Times crossword puzzles, and other games free on the link for NYT games. Up your cooking skills with the link for NYT recipes.