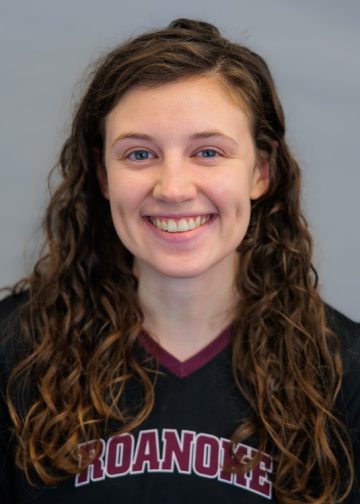 By Brian Hoffman
The College Sports Information Directors Association (CoSIDA) announced their 2022 Academic All American at-large Teams last week and Lilly Blair of Roanoke College was named to the women's lacrosse first Team.
Blair, a senior from Salem, was the only Old Dominion Athletic Conference (ODAC) female athlete to appear on the first team and was one of only two student-athletes to post a 4.00 GPA while being a multiple-major.
Earlier in the spring, Blair was named a CoSIDA Academic All Region 1st team selection. This season, the lacrosse standout finished first in the ODAC with 71 goals and 90 total points. For her efforts on and off the field, Blair was named All ODAC 1st team, ODAC Women's Lacrosse Offensive Player of the Year as well as being named the 2022 ODAC Women's Lacrosse Scholar Athlete of the Year. It marked the 13th time in the history of the conference that Roanoke would claim Player of the Year honors. She was named IWLCA All Region first team for the second consecutive season as well as being named to the IWLCA All-American 2nd team.
In the classroom, Blair is a triple major in Mathematics, Economics, and Actuarial Science and graduated in early May with a 4.00 grade point average. At the Roanoke College 2022 Senior Brunch, Blair was announced as the 2022 Co-Outstanding Female Athlete of the Year. Some of her academic awards include: Senior Scholar in Mathematics, Senior Scholar in Economics, Omicron Delta Epsilon Award. Lilly is a member of Phi Beta Kappa, Pi Mu Epsilon (math society), Omicron Delta Epsilon (economics society), National Society of Leadership and Success, Member of EconLab.
Lilly has another year of eligibility remaining after missing a season due to COVID and return to play for the Maroons again next spring.