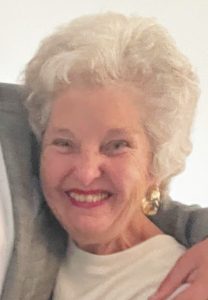 Rosemary Smith Hamilton Boardwine, 80, of Salem, went to be with the Lord on Tuesday, Jan. 10, 2023.
 Rosemary was a devoted wife, exceptional mother, grandmother, and dear friend to all who knew her.  A lifelong member of the Disciples of Christ Church, she was a 1960 graduate of Andrew Lewis High School, and enjoyed a career in payroll and bookkeeping.  She was an amazing cook and loved to craft and decorate.
 She was predeceased by her husband, Warren Alexander Boardwine; her parents, Bill and Sylvia Hamilton; daughter, Dianna Boardwine; twin brother, Billy Hamilton; sister, Anne Bowe; niece, Ashley Bowe; and her best friend, Sally Stephenson.
 Left to treasure the memory of beautiful Mimi are her daughter, Scotti (Howard) Hartman; son, Roger (Mary) Boardwine; and grandchildren, Jackson Hartman, Grace (Scott) Harwin, Alex Boardwine, Allison Schmahl, and Adrianne (Jared) Hall; and brother-in-law, Glenn Bowe.  Also left to cherish her memory are her beloved cousins and cherished friends including the Loder, Housh, and Maxey families.  A fixture in the Glenvar Highlander community, Mimi also had many honorary grandsons and cheered the loudest at their football games from sandlot to varsity.
 A graveside service will be held at 11 a.m. on Saturday, March 25 at Church Hill Cemetery in Salem.
 In lieu of flowers, please consider a donation to the Good Samaritan Hospice Center for Caring, 2408 Electric Rd, Roanoke, Va. 24018. Online condolences may be expressed at www.johnmoakey.com.