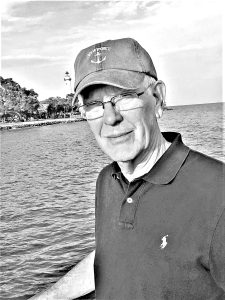 Charlie Newell, a lifelong Roanoke Valley resident, passed away Saturday, July 3, at Lewis Gale Medical Center following a sudden cardiac arrest. He is survived by his loving wife of 55 years, Carolyn; their beloved daughter and son-in- law, Marty and Jason DeBord; and their precious grandchildren, Kate DeBord (fiancé Evan McMillan) and Mark DeBord. He will be greatly missed as their loving, kind, and devoted husband, father, and grandfather.
Charlie was the son of Sarah Renick and Charles Newell, both deceased. He was also predeceased by Rev. J. Virgil and Martha Lilly, father and mother-in-law; Elaine Allen, sister-in-law; Ashley Lilly, brother-in-law; and John Oberlin, lifelong friend.
In addition to his immediate family, Charlie is survived by his sister, Deborah Crandall (Chauncey); brother, Don Newell (Lucy); sister-in-law, Sue Lilly; many nieces and nephews and great nieces and nephews; and special family members, Gloria and Gary DeBord.
A graduate of Patrick Henry High School and Averett University, Charlie also served proudly in the United States Marine Corps. He worked at various times in the Business and Work Force Development Departments at Virginia Western Community College, where he developed enduring friendships. 
Charlie enjoyed diverse activities and interests. As a lover of travel, he enjoyed visiting new places. In addition to being a talented artist, an excellent photographer, and an accomplished woodworker, Charlie collected and preserved WW II Army Corps artifacts. His life was enriched by his association with the local Army Air Corps Veterans. He enjoyed daily early morning walks with his buddies on the Roanoke College Track. Charlie, an animal lover, enjoyed all the dogs who were a vital part of his family over the years. Most of all, he enjoyed family and friends get togethers.
A memorial service was held at 3 p.m. on Tuesday, July 13, at First United Methodist Church, 125 West Main Street, Salem, Virginia, 24153. 
Friends visited with the family from 1 p.m. until the service hour at the church.
In lieu of flowers, please consider a donation in Charlie's memory to First United Methodist, where he was a member. Contributions may be mailed to the churches address above. 
Charlie lived life well, loved others well, and was loved well in return by many.
Online condolences may be sent to the family at www.johnmoakey.com.