---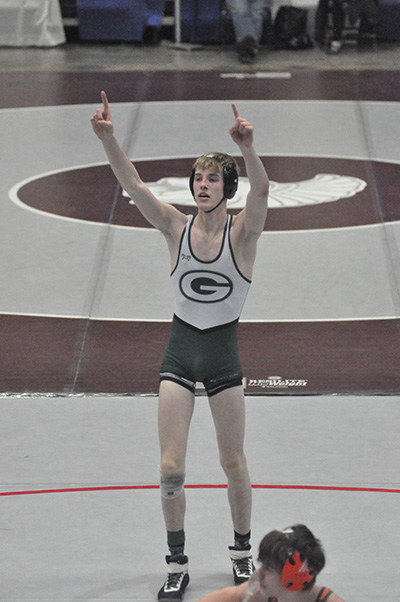 The Glenvar wrestling team had a state champion and two runners-up in finishing fourth in the Class 2 tournament at the Salem Civic Center Monday. Poquoson High School won the state championship with Lebanon taking second and James River in third.
Glenvar sophomore Jake Cline won the 132 pound championship with a 6-3 win over Cannon Long of Clarke County in the final to finish the season with a perfect 10-0 record in a pandemic-shortened season. He opened with a 12-4 decision over Erik Goins of Bruton in the quarterfinals, then pulled out a 4-3 win over Luke Childress of Lebanon in the semis. Jake was losing with 10 seconds to go in that match.
"The match was really close right up until the last five seconds when he got a takedown to tie the match and two back points to put him ahead for the win," said Glenvar coach Jason Cline, who is also Jake's father. "We knew that was a solid opponent going into the match, but that was a nail biter.  We tell the kids to wrestle whistle to whistle and never give up, and that's a great example of why wrestling the entire match is so important."
That put Jake in the finals and he got a couple early takedowns to take a lead he would not relinquish. After the final horn Jake raised his arms in victory to cheering teammates in the stands, as fans weren't permitted at the state finals.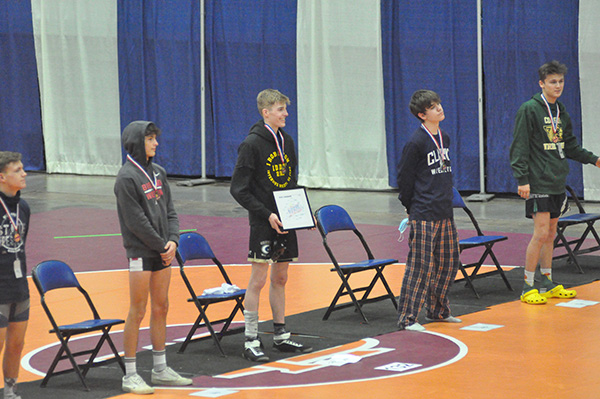 "We had a plan to wrestle as much from our feet as possible," said Jake. "Once I got the second takedown I could feel his energy drop and I knew from there I had it."
Jake is the second member of his family to win a state championship. Jason won two state titles as a high school student at Grundy in 1993 and '94. He was probably more nervous Monday then when he was on the mat himself.
"I can tell you I'd rather be the one on the mat than in the corner," he said. "It was exciting and nerve racking all at the same time. I see all the work and effort that goes into the preparation and sitting there you know it all comes down to a handful of important matches so you really want to see them win and do well.  It's a great feeling, and the best seat in the house, to see their excitement when all that work finally pays off."
Jake knew he had his biggest fan in the corner and that was a big help in the run to the championship.
"It's pretty cool to have your dad in the corner at your matches," he said. "And it's really cool to win a state championship like he did. I've been around wrestling my entire life and it's great to have him there."
After hugging Jake and catching his breath Jason hustled to the other side of the arena to sit in the corner as Ethan Flowers competed in the state 138 pound final. Ethan is just a freshman but he made the finals with a 5-3 overtime win over Cody Filicko of Bruton and a 7-3 decision over Jackson Mullins of Lebanon. However, his quest came to an end when Austin Weeks of King William decisioned him in the finals, 6-2.
"Ethan Flowers did exceedingly well in the tournament for a freshman," said coach Cline. "It's a great accomplishment to make it into the state finals as a freshman and Ethan continues to improve as a wrestler."
Glenvar had one more wrestler in the finals, senior Zach Moore at 220. Zach came in at 9-1 and opened with a 3:45 pin of Marion in the quarterfinals. Then he beat Andrew Richardson of Buffalo Gap in the semis, 7-3. However, Zach's Glenvar career came up just short of a championship as he was pinned in the final by Trent Ray of Lebanon, who finished 23-1 on the season.
"Zach Moore qualified for the state tournament the past three years and each time he struggled to get wins at this tournament, but this year was different," said Cline. "Zach came out on a mission and really impressed me with his drive to keep wrestling the entire match this year.  In the finals, he just got caught in a bad position. We'll miss having Zach on the roster, he's a good kid who makes everyone laugh and I'm glad he was able to finish his high school career in the state finals."
All six Highlanders entered in the tournament went home with medals. Sophomore River Smith wrestled back for a third place after losing a tough match in the quarterfinals. In the consolation round he defeated James River's Craig Bowyer, who he lost to in the region finals, then in the consolation final he avenged his quarterfinal round loss with an 8-6 decision over Landon Roper of Clarke County.
Mason Hylton, another sophomore, took fourth at 120. He got a pin in his first match but lost to undefeated Karon Smith of Poquoson in the semis, and Smith went on to win the state championship with a 45 second pin in the final.
Trey Lawrence, also a sophomore, took fifth at 145 in a very tough weight class.
"It was one of the toughest weight classes we've seen in Virginia 2A in a while," said Cline.  "There were five really good kids in that weight class, including multiple State Place winners and a returning State Champion."
Trey won his opening round match with a 37 second pin over Isaac Gilman of Amelia County, but then lost in the semis, 8-4, to eventual state champion Thomas Potter of Union.
Of the six Glenvar wrestlers in the tournament five are back next year, including four sophomores. The future is bright on the green and gold mats.
"I'm really proud of all the kids," said Cline.  "This season was very odd with all the COVID protocols, a shortened and travel restricted regular season, and getting a late start on season practices. So, for these young kids to persevere under those conditions just speaks to the discipline and focus they have.
"I'm just really proud of all these guys and looking forward to see what the future holds for all of them."