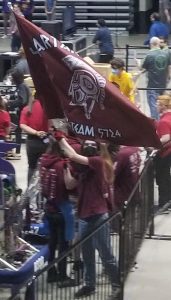 Shawn Nowlin Contributing writer
 Sometimes people make something look so easy, it gives off the perception that they did not work extremely hard to make it happen. Such an example is the Spartan Robotics Team at Salem High School.
Just hours before press time, the team was informed that they once again qualified for the FIRST World Championship in Houston which will commence later this month.
 This marks the third consecutive year (2018, 2019 and 2022) that the team will be attending the FIRST World Championship. Due to COVID, no event was held in 2020 and 2021.
The mission of FIRST (For Inspiration and Recognition of Science and Technology) is "to inspire young people to be science and technology leaders and innovators, by engaging them in exciting mentor-based programs that build science, engineering, and technology skills, which inspire innovation, and that foster well-rounded life capabilities, including self-confidence, communication, and leadership."
This year's Spartan Robotics team is composed of four seniors, Aiden Laughlin, Zach Mangone, Christopher Robertson and Oksana Tensen; five juniors, Adam Greene, Nick Powers, Thomas Hinson, Alex Doherty and Carter Logan; two sophomores, Dalton Hohann and Mackenzie Richardson; and two freshmen, Seth King and Donavan Belt.
Ken Mangone, Bob LaPerriere, Rick Shaw, Price Richardson, John Senter, Robyn Johnson and Paul Stewart all serve as team mentors.
On November 13, 2021, Spartan Robotics lost its longtime coach Randy Brinkley to COVID. Under Coach Brinkley's leadership, the team proved to be a powerhouse and leader throughout Virginia and the surrounding states. Successes under Coach Brinkley's leadership earned the team national recognition through various invitations across the country.
"Mr. Brinkley was an amazing person. He had the ability to make you laugh from his stories of his early years to the jokes he could tell. He could recognize the talent in a student that no one else could see and bring those talents out," Salem Robotics Head Coach Ken Mangone said. "His ability to know what to do, when to do it and what and when not to were amazing gifts he possessed. When you asked him how he was doing, he would smile and simply say, 'I'm living the dream.'"
In addition to being a senior team member, Laughlin also serves as the team's president. On his relationship with Coach Brinkley, he said, "Mr. Brinkley was instrumental in building the robotics program at Salem. Our team would not be where it is today without his leadership and guidance."
"As a parent, I have seen the passion, gratefulness and sure determination through the tired eyes of each student, working after school countless hours to make Mr. Brinkley proud and show the pride of Salem High School," said Andrea Powers. "Just as a robot works with each individual part, it takes all parts to make it successful. Just like life, it takes each of us doing our part to assure the success of our children's future.
At times over the years, funding has been a major hurdle to overcome. The team was blessed with different sponsors this year, including the donation of food, parts and tools. Additional monetary donations are needed, however, to ensure that every student can make it to Houston.
"To be able to have the entire team go, we will need around $20,000 to get the students to the competition, feed them and have hotel rooms for them to stay in," Mangone said. "Minus the COVID seasons, we have been the last few years it was held. This is an amazing event for the students as they get to meet other robotic teams from all over the world."
Interested individuals can get involved by donating to the program through the high school. People can also volunteer and become a mentor or volunteer at a FIRST event.