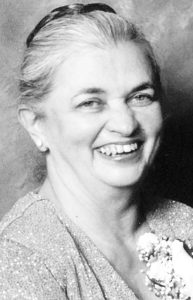 Connie May Rush Copeland, 88, of Arlington, Va. and originally of East Gary, Ind., went to be with the Lord on Monday, April 24, 2023.
Connie played the clarinet in the Edison High School marching band.  She worked as a radiology technician for many years.  She also worked at the Episcopal Cathedral School in Santurce, Puerto Rico.  The places she lived included Indiana, Florida, Cuba, New York, Washington, D.C., Puerto Rico, and Arlington, Va.  She was a member of Calvary United Methodist Church in Arlington, Va., and enjoyed gardening, cooking, and reading.
Her parents were Lloyd Dale and Newana Maxine Rush; and her beloved husband of 58 years was Herbert Earl Copeland, Jr.
She had 2 children, Lynn (Bryan) and Carol (Roger); 5 grandchildren, Christopher (Carley), Amy, Hannah, James, and Ross; 3 great-grandchildren, Brooklynn, Chloe, and Cassidy; and a very special family friend, Irma De Romero.
The family is incredibly grateful for the fine staff with the Lewis-Gale Medical Center's surgical ICU department.
A period of visitation was held from 6 to 8 p.m. on Thursday, April 27, 2023, at the John M. Oakey & Son Funeral Home in Salem, Va.  A funeral service was conducted at 11 a.m. on Friday, April 28, 2023, in the funeral home's chapel.  She was laid to rest beside her husband on Thursday, May 4, 2023 at Quantico National Cemetery.
In lieu of flowers, please consider contacting family members to give to an education fund that has been set up for her great-grandchildren.  Online condolences may be expressed at www.johnmoakey.com.