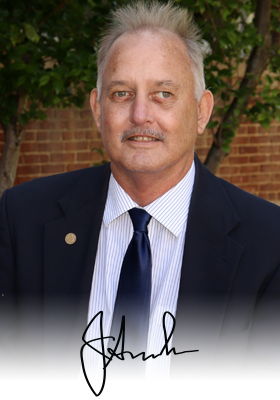 By Meg Hibbert
Councilman John Saunders is running for a second term on Salem City Council. He made his announcement this week for the November election after getting the required number of signatures and filing in the registrar's office.
Saunders is the second to announce after Councilman Randy Foley announced his intentions last week to run again. The two are the only Council seats up for election this year.
Saunders explained why he wants to run for another term. "We haven't exactly finished all the infrastructure needs I think need to be done in this city," Saunders said. "Also, since we just hired our new economic development director, I want to see that through. I think he is going to be excellent."
He continued: "I enjoy being on Council. You put in a lot of time but you can always see the results pretty well. I enjoy when citizens call and I can talk with them and listen directly."
Saunders said he is proud of the accomplishments this city has made during his first term. "The renovation of the high school, on time and within our budget, our infrastructure renewal including a complete basic rebuilding effort at the Moyer Sports Complex. That includes not just the complex but new citizen ancillary changes to the parks, including new pickleball courts and other amenities."
He continued that "even though these efforts have cost an investment by our city, we have significant growth in our financial position and strong reserves to protect our city and its citizens in the future."
He said, "this is a remarkable achievement made by Council, City Administration and our School Board."
Saunders explained the most important thing to him is the city's financial stability. "Our bond rating is very high. That wasn't the case four years ago or even 10 years ago. We've gotten the school funding up and are starting on Moyer Sports Complex." He noted, "I worked hard to represent our citizens on numerous decisions including my opposition to the Simms Farm development. I want to make sure citizens have a representative on Council who listens to all discussions."
Saunders added he is extremely pleased in Salem's Downtown Project. "Revitalization of our downtown has been very important ongoing project for our Council."
He added that the city has major infrastructure projects on the horizon, including water and sewer improvements in certain areas and expanding of WiFi in the city. He also noted that "Council has provided salary increases and packages to continue moving us as quickly as possible to raising salaries and starting pay for the men and women of this city that keep it running as smooth as possible."
Saunders lives with his 21-year-old daughter, Heather.