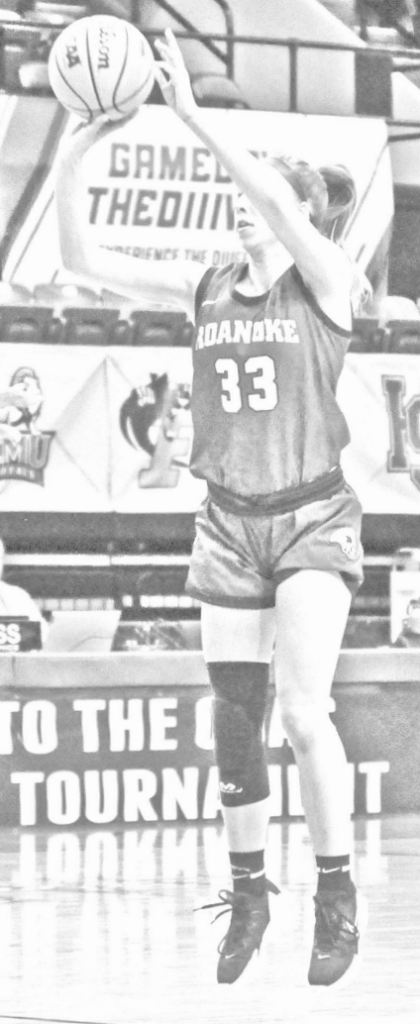 The Roanoke College women fell behind early and a late comeback effort fell short as the Maroons were eliminated by Bridgewater in the first round of the Old Dominion Athletic Conference tournament last week. The Eagles took a 71-60 win in the first round of the tournament at the Salem Civic Center last Thursday. After the two teams traded baskets to start the game the Eagles went on a 7-0 run, capped with a pair of free throws with 4:13 left in the first quarter.
Bridgewater extended their lead to eight with a free throw at 1:27. Madison Nereu hit both ends of her free throws to cut the lead down to six, but a last-second layup for the Eagles gave them the 15-7 lead after the first 10 minutes of play. The Eagles scored the first seven points of the final period to take a 17 point lead with 8:44 on the clock.
The Maroons chipped away at the lead, with Sande cutting the lead down to singles digits with a pair of free throws at 4:56, 60-51, but a 10-0 run by the Eagles put the game out of reach. Lauren Keel led the Maroons with 17 points while Sayre Brandstatter and Rose Sande had 11 each. Sande was named second team All-ODAC as the Maroons finished the season at 18-8. Washington & Lee went on to win the tournament with a 73-57 win over Shenandoah in Sunday's final. The Generals are the only team from the ODAC to make the NCAA Division III women's tournament.