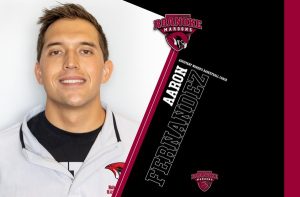 Roanoke College head women's basketball coach Carla Flaherty has announced the addition of a new assistant coach to her staff. Aaron Fernandez started his new position on July 1st and will be the primary assistant going into the 2021-22 season.
Coach Fernandez comes to Salem after a stint at Davidson College and coaching with Pro Skills Basketball in Raleigh. After spending the 2019-20 season as the Davidson College women's basketball Director of Player Development, Fernandez spent the 2020-21 season working with Pro Basketball Skills while completing his Master's degree in Coach Education and Athletic Development from Xavier University.
While with the Wildcats, coach Fernandez was responsible for skill development, scouting of opponents, video coordinator, and on-campus recruiting. In his time with the DI program, Fernandez coached the Atlantic-10 Rookie of the Year as well as a pair of All Conference players. Coach Flaherty was impressed during the hiring process and excited about what coach Fernandez will be able to add to the program.
"Aaron's depth of experience and passion for teaching the game of basketball really set him apart," said Flaherty. "I'm looking forward to working together as we continue to enhance our program."
Before coming to Davidson Fernandez served as an assistant and then interim head coach for the women's basketball team at Division II Mars Hill University in Mars Hill, N.C. He started as the assistant coach for the program before taking over on an interim basis halfway through after former head coach Jenny Finora took a leave of absence due to health reasons.
Prior to coaching at Mars Hill, Fernandez served as the head varsity girls' basketball coach at Owen High school for the 2017-18 season. He recorded a 20-7 record which was second best in the conference. The 20-win season and second place finish in the conference were the best marks by the school in over 10 years.
Coach Fernandez was also the assistant boys' basketball coach at Tuscola High School from 2009-2017. During the 2012-13 season, the school won the conference and posted a record of 24-5.