by Brian Hoffman
Salem High School junior Taylor Davis is thankful for the day she signed up for the First Tee of Roanoke Valley. It not only introduced to a sport that has become her passion, it enabled her to have an experience of a lifetime.
Taylor, her parents Justin and Holly Davis and her 13 year old sister Ashlyn traveled to Pebble Beach, California in September to participate in the Pure Insurance Championship at the famous course. The tournament is part of the Senior Professional Golf Association(PGA) tour and Taylor was on hand to play a few rounds and meet some world famous golfers.
Davis joined the First Tee program when she was only eight years old. The local program is tied in with the Roanoke Country Club and is designed to get kids interested in golf. Golfers can continue with the program through the age of 18, and Taylor has advanced to the "Ace Level," the highest in the national First Tee program.
"It's especially for children and designed for them to develop a love for golf," said Taylor, who credits First Tee Program Director Bill Rader for giving her opportunities to compete on the links. She also is appreciative of Executive Director Jennifer Blackwood, a long-time associate of the First Tee, for introducing her to the chance to play at Pebble Beach in this nation-wide program.
"Roanoke averages sending two golfers each year, which is really good," said Davis. "Many areas don't get one."
Only 78 high school golfers in the nation are selected to participate, and this year there were 38 girls and 40 boys chosen. Taylor found out she was selected by e-mail on the 4th of July, and the next day all 78 names were listed on the Golf Channel. Northside's Nick Crawford was also selected from the Roanoke Valley. Nick is the grandson of Northside High School golf coach David Heath, an Andrew Lewis High School graduate who played football for the Wolverines under Eddie Joyce.
Taylor arrived in California on Monday, September 19, and settled in a hotel to get ready for the big week. On Tuesday her family attended a party with other golfers who were selected. At that time she learned she would be partnering with PGA Senior tour golfer Wes Short, Jr. for her round at Pebble Beach.
During the day Taylor joined Nick and two girls from North Carolina and Texas for a round of golf at "The Hay," a course designed by Tiger Woods. They played 18 holes with a "captain's choice" format and finished five under par. They were also able to use the practice facilities at Pebble Beach.
"We had to get used to the greens because they were really fast," said Davis. "It was super nice, the best I've ever seen."
The next day Taylor played a practice round at Pebble Beach with Darla May and Hally Ledbetter. The latter is a reporter for the LGPA Tour for the Golf Channel and Golf Digest, and the daughter of former tour player David Ledbetter. Parts of their round was recorded for a video on Golf Digest Instagram and it had over 72,000 views.Suzy Whaley, the first female president of the PGA, watched us play two holes," said Davis. "She played at UNC and on the LPGA tour."
Taylor also got to meet Ernie Els, and took a photo with the famous golfer. She also had Vijay Singh yell at their group to "hurry up" as they were being held up on a busy course. Another evening social followed with some big time guest speakers, including Amanda Balionis-Renner of CBS Sports.
On the third day Taylor played a practice round on the "Spy Glass" course with May and two other girls, and did well.
"It was very similar to Pinehurst," she said. "It was a very nice course with more trees, but only four holes on the ocean."
Friday, September 23rd, was the first day of the tournament. Taylor played with her pro, Short, Jr., and two amateurs at Pebble Beach. There were actually three tournaments going on at the same time, as Short was included in the Senior Tournament, the amateurs were competing in a field of amateurs and Taylor and Short were included in the First Tee best-ball tourney.
"It was awesome," said Davis, who noted her ball was used several times in the 'best ball' format. "We shot two under as a team and it was absolutely incredible. Wes Short, Jr. was phenomenal."
"He really gets it," said Justin Davis. "He took a great interest in her and was very helpful. Not all the pros were like that."
Short has a PGA tour win to his name and three Senior Tour wins.
"He could get to every par five in two," said Taylor. "It was great fun to play with him."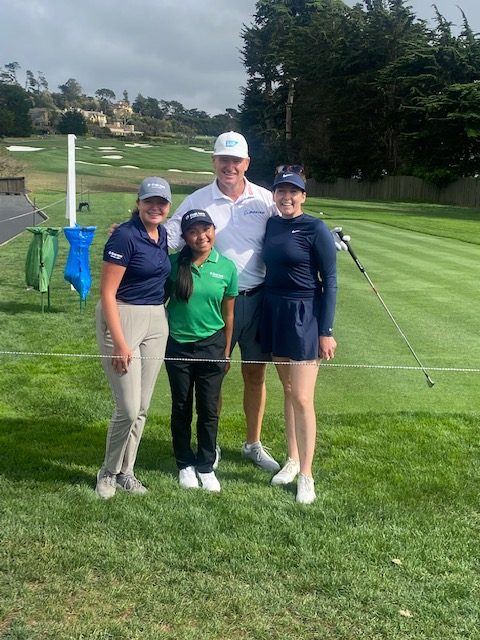 On Saturday Taylor was back on the Spy Glass course, but her 8:15 am tee time was delayed by more than three hours due to heavy fog. Some of the golfers didn't get to finish and they had to go back on Sunday morning. Then, if they made the cut, they had to go to Pebble Beach that same day for the final round. Taylor's team didn't make the final cut with only the top 12 boys and top 12 girls advancing to the final round.
Taylor didn't hang around for Sunday's awards ceremony, as it was pushed back and very late and her family had a plane to catch at 10:20 pm San Francisco time, which is 1:20 am Eastern Standard Time. They arrived in Charlotte, NC at 8:30 am EST on Monday, September 26, then drove two hours to the Danville Country Club so Taylor could play for the Salem High team in the high school sub-region tournament. It began with an 11:30 am shotgun start and Taylor was ready to tee off after a cross country trip and four hours of sleep.
Taylor shot an 81 at the Danville CC as Salem finished second to Blacksburg and qualified for the Region 4D tournament. Her score was the fourth counting score for the Spartans, who finished eight strokes ahead of third place Halifax with only the top two teams advancing.
"I went home and fell right asleep," said Taylor.
Davis credits the First Tee for where she is today. The First Tee nominated her to attend the Congaree camp in Ridgeland, South Carolina in June and she credits that for giving her confidence to play at a high level. She worked with Adam Scott for a week at the camp.
"I won the Congaree Cup, then I won the Valley Junior Girls' Open at Hunting Hills on Fathers' Day," she said. "Those two wins were within 10 days, and I credit Congaree for that success. I was excited for the high school season after that."
Taylor is a member of the Blacksburg Country Club where her swing coach is Steve Prater, who has tutored many of the top golfers in the area. Davis would like to play in college, with James Madison University or William & Mary being her "dream schools," and she says it all goes back to the "First Tee."
"It's been a big part of my life," she said. "They also teach lessons in life and character and they don't let cost become a hurdle. They just want kids to play golf."
And if you get to play at Pebble Beach, that's a great bonus.