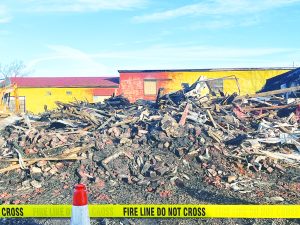 The 17 7th Street structure caught on fire Monday morning 
Aila Boyd
aboyd@mainstreetnewspapers.com
A Monday morning fire destroyed a large commercial property, the former home of McClung Lumber Company, Monday morning.
According to a news release, the Salem Fire & EMS Department responded to a structure fire at 17 7th Street at approximately 2:30 a.m. Monday morning. The fire destroyed the structure and caused minor damage to an adjacent building. 
The release said no one was in either building at the time of the fire and that there were no injuries as a result of the fire.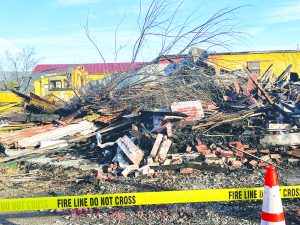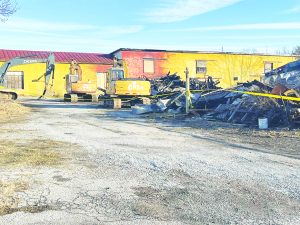 "The first units arrived within seven minutes of receiving the call and found the main structure fully engulfed in flames with fire spreading to the building next door. The Incident Commander immediately requested assistance from the Roanoke Fire & EMS Department and firefighters began an exterior attack on both buildings," the release said. "Fire crews were able to extinguish the fire in the adjacent building quickly and limit any damage to the building and its contents. It took approximately one hour to bring the entire fire under control, and crews remained on the scene for several hours performing an extensive overhaul of the site."
Approximately 32 personnel from the Salem Fire & EMS Department and Roanoke Fire & EMS Department responded to the call.
The fire remains under investigation by the Salem Fire Marshal's Office. As of press time, there was no damage estimate.