by Brian Hoffman



Above, left to right, Glenvar's Heath Bowker, Caeden Bowker and Davis Norman run in last Saturday's Class 2 state cross country meet at Green Hil Park. All three earned all-state honors with top 15 finishes. Below, Glenvar freshman Everly Shanks runs in the girls' state meet.
Green Hill Park in west Roanoke County was the site of Virginia High School League state cross country championships last Saturday. Both girls and boys in Classes 1, 2 and 3 competed on a beautiful Virginia day at the spacious park just west of Salem and the Glenvar boys finished third in the Class 2 division.
The course at Green Hill was fast and dry despite heavy rains the day prior. The Class 3 girls' race opened the day at 10:30 am and Abingdon's Makaleigh Jessee won the individual title in 18:21. Abingdon also won the girls' team title, followed by Maggie Walker and Spotswood.
In the boys' Class 3 race the individual champion was Bazil Mathes of Monticello in 15:25. Abingdon also won the boys' Class 3 team title, followed by Tabb and Monticello.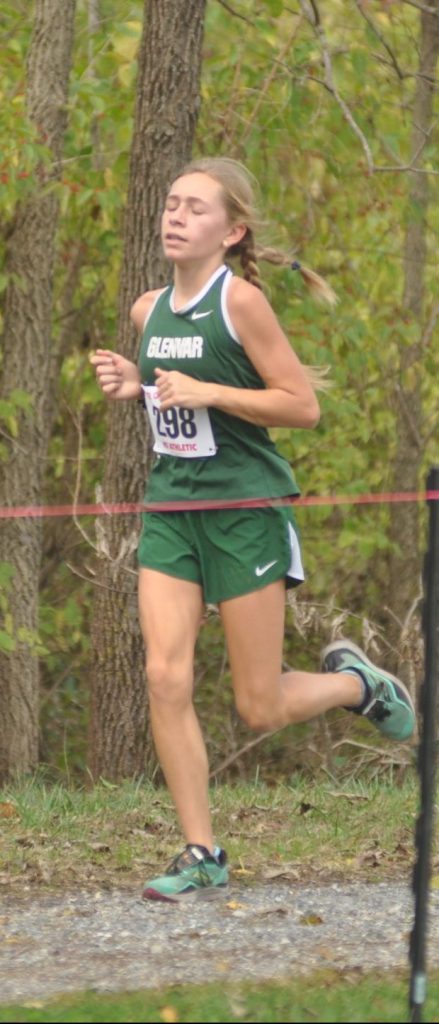 The Class 2 races followed and Glenvar freshman Everly Shanks finished 28th with a time of 22:28 in the girls' race. Alleghany won the girls' Class 2 team title, paced by freshman Kiera Lowman who won the race in 18:59. Clarke County was second as a team and Floyd County of the Three Rivers District was third.
"We are so proud of Everly and excited to see what her future has in store," said GHS coach Amanda Spradlin.
In the Class 2 boys' race the Highlanders finished third as a team behind Central High of Wise and runnerup Union High. Central had 93 points, Union had 97 and the Highlanders had 104, four more than fourth place Floyd County.
Sophomore Mason Erchull of Floyd was the individual champion with a time of 16:33. Glenvar's best finish was a fifth by senior Heath Bowker, who earned all-state honors with a time of 17:07. Heath's brother Caeden, a junior, finished a little over a second behind Heath with a seventh place finish in 17:08 and Davis Norman was 12th at 17:43, also earning all-state accolades by finishing in the top 15. Also scoring for the Highlanders were Charlie Horrell in 33rd at 18:25 and Aldin Smith in 73rd at 20:08. Tyler Davis and Tucker Henderson also competed for Glenvar among 101 total runners.
"We are so proud of all of our runners for an amazing performance at the state meet," said Spradlin. "The boys' team ran out of their comfort zone and showed up when it mattered most."
The Class 1 races concluded the day with the George Wythe girls and Lebanon boys winning team championships.