Glenvar tennis players will take center stage today when the Virginia High School League Class 2 tennis championships are held on the courts at Virginia Tech in Blacksburg. Glenvar girls and boys will both be involved in state play.
The girls will take on Central High of Woodstock at 10 am for the Class 2 team championship. Then, at 3:30 pm, Glenvar's Isabella Gustafson and Avery Flynn will play in the girls' doubles semifinals while Alec McIwain and Blaine Bishop will be in the boys' state doubles semifinals.
The girls opened state team play last Thursday with a 5-4 win over John Battle High at Tech. The two split singles with Gustafson winning 6-0, 6-3 at number one, Flynn winning 6-0, 6-2 at number two and Hannah Hylton winning 6-2, 6-2 at number three.
In doubles Gustafson and Flynn breezed to a 6-1, 6-1 win at one but Battle won at number three, leaving the second do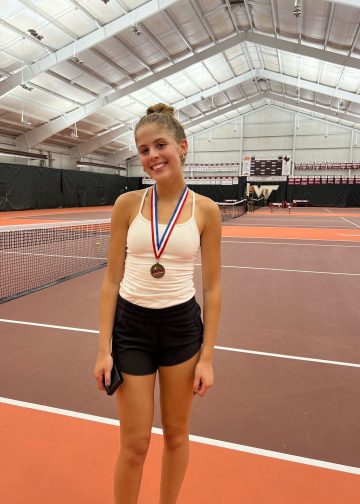 ubles to decide the match. Glenvar's Cara Butler and Hylton won the first set, 6-3, but lost the second, 4-6, before pulling out a 6-3 win in the third to pull out the victory for the Highlanders.
"John Battle gave us everything they had and they made us earn every point," said Glenvar coach Blaine Mills. "Isabella, Avery, and Hannah all played great and Cara and Hannah never gave up and won the final point for the team win."
That put Glenvar into the team semifinals on Monday with Central of Wise. Glenvar jumped to a 4-2 win in singles in this one as Gustafson, Flynn, Hylton and Natalie McMahon all won, with Flynn battling back to win at number two after dropping the first set. In doubles Dhruvi Patel and McMahon were the first ones off with a 6-0, 6-2 win and that was the fifth and deciding point in the match.
"The team played great from top to bottom," said Mills. "Avery showed fight and determination in her victory. I'm beyond proud of her."
Today will be the last match for Mills as head coach at Glenvar. He's stepping down from coaching both girls' tennis and golf to spend more time with the family.
"My wife and I became foster parents and we're currently going through the process of adopting our daughter," he said. "With this, I need to be home more because I don't want to miss her sports and activities and saying goodnight. I'll be transferring to Penn Forest and not coaching for the foreseeable future."
Blaine will still be on the sidelines for a couple days as Gustafson and Flynn play the doubles semifinals this afternoon, and if they win the doubles final is Friday at Tech at 9 am. The girls will open with the pair from Randolph-Henry and the boys will play at the same time against the doubles team from Poquoson.
Gustafson will represent Glenvar in singles and take on Emily Tharpe of Randolph-Henry at noon on Friday at Tech. The singles championship is Saturday at 9 am.