By Brian Hoffman
The Glenvar girls' tennis team will open state play today at Virginia Tech. The Highlanders will take on John Battle in the quarterfinal round of Class 2.
The Highlanders come into the tournament as the Region 2C champion after defeating Floyd County, 5-2, in the championship match last Wednesday. Singles winners were Isabella Gustafson, Avery Flynn, Hannah Hylton and Natalie McMahon, and Cara Butler and Hylton won in doubles to clinch the match.
Floyd is also in the state tournament as Region 2C runnerup and they'll play Central of Wise, the Region 2D champ, on Friday.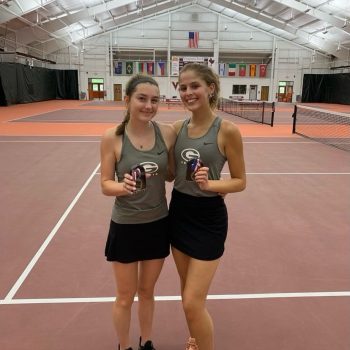 John Battle is the Region 2D runnerup and Glenvar is the host team today. The Highlanders were originally scheduled to play on Friday but the match was moved up to today because it was the only time the Virginia Tech courts were available. If the Highlanders win today they would play the Floyd-Central of Wise winner on Monday at the higher seed, and the state championship is June 9 at Virginia Tech at 10 am.
Glenvar also has the Region 2C singles and doubles champs. Gustafson defeated Madison Graham of Radford in the Region 2C singles semifinals, 7-6, 6-1, then beat Madi Ramey of Floyd in the final, 6-1, 6-0. Gustafson will open state singles play on Friday, June 10, at noon against Emily Tharpe of Randolph-Henry, the Region 2A champ. The championship is Saturday, June 11, at 9 am at Tech.
In doubles Gustafson and Flynn defeated Radford's duo in the semifinals, 6-2, 6-1, then beat the Floyd team in the final, 6-0, 6-4. Gustafson and Flynn will play in the state doubles semfinals against the Region 2A doubles champion from Randolph-Henry at 3 pm at Virginia Tech on Thursday, June 9. The championship is Friday morning at 9 am at Tech.