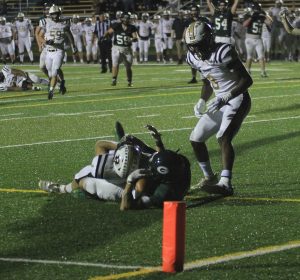 The Glenvar football team won the Three Rivers District championship in dramatic fashion last week with a "walk off" win at Highlander Stadium. Glenvar scored on the last play of the game to beat Radford, 23-21, in one of the most memorable games ever for the Glenvar program.
"I'd put it in the top five most exciting games of my career," said Glenvar coach Kevin Clifford. "You have the state championship and our region win over Giles(in 2014). It's not far after them."
Both teams came in undefeated in Three Rivers District play, and this was Glenvar's final district game of the season. The Highlanders finish up with Giles this week, and the Spartans have moved to the Mountain Empire District.
Glenvar fell behind 14-0 early. Stud back Marcell Baylor broke loose for an 87 yard TD and Tyrel Dodson scored on a one yard run to give the Bobcats a two score edge.
The Highlanders came storming back to tie the game by halftime. Aiden Wolk hit Dagan Williams with a 20 yard TD pass and Kyle Hanks ran one in from the three and it was knotted 14-14 at intermission.
A scoreless third quarter set up a wild ending. During the third period Glenvar's senior all-state quarterback, Aiden Wolk, went down hard and left the game with a sore neck. He was replaced by freshman Eli Taylor, whose only varsity work of note was a 25-7 win over Martinsville early in the season when Wolk was out win an injury. As he did in Martinsville, Taylor seized the moment and played like a seasoned veteran.
"He's a tough kid and he's cool under pressure," said Clifford. "You have to remember this was for the district championship."
Taylor engineered a drive that led to a Carl Muse yard field goal with 1:58 remaining. Jackson Swanson carried seven times on the drive that put Glenvar up 17-14.
"He made a play that saved the drive," said Clifford of Taylor. "He fumbled the snap, but picked it up and threw to Jackson for a one yard gain. It doesn't seem like much, but it kept that drive alive."
The Highlanders had little time to celebrate as Baylor answered with a 52 yard run to paydirt just 56 seconds later, giving Radford the lead again at 21-17. Now the Highlanders were more than a field goal behind with about a minute to go and 65 yards away from the end zone.
No problem for Taylor. With Radford playing for the deep ball Eli guided the team down the field, hitting four passes for shorter yardage, including two to Gabe Ford for a total of 30 yards. The Highlanders moved to the Radford 11 with just four seconds left, just enough for one more play. 
Taylor lobbed the ball to the right corner of the end zone where the Highlanders' most reliable receiver, Dagan Williams, was being guarded by two Bobcats. All three went up together but somehow Williams came down with the ball, sending the Glenvar sideline into hysterics.
"It was an unbelievable catch," said Clifford. "We had Gabe on one side and Dagan on the other and Eli threw it up there and Dagan made a phenomenal catch. The throw was about as good as you can get in that situation."
Clifford was quick to praise receivers' coach Tony Spradlin, who was all smiles after the game.
"He's been working on those kind of plays for the past 20 months," said Clifford. "He does an outstanding job with our passing game, give him some credit. To win that game it took great coaching and incredible concentration from the kids."
Taylor completed nine of 15 passes for 78 yards in relief of Wolk, who completed five of 16 for 59 yards. Williams had seven catches for 78 yards, Swanson had three for 28 and Ford had two for 30.
Hanks rushed 34 times for 106 yards, Swanson ran nine times for 68 and Wolk carried eight times for 21 yards.
Glenvar's defense did a great job keeping the Highlanders in the game. Nick Williams and Mason Anderson had eight tackles each while Nick Woodson had three interceptions and four tackles for losses. Dawson Anderson also had an interception and a fumble recovery.
"I'm proud of our defense," said Clifford. "We gave up two long runs to an exceptionally athletic kid, and after their second touchdown we shut them down until that last run."
The win was huge in more ways than one for the Highlanders. It not only earned them the Three Rivers District championship but kept the Highlanders atop the rankings in Region 2C at 8-1. Radford is the third place team in the region at 6-3, giving Glenvar some rider points as they fight to stay ahead of second place Appomattox, the defending state champ.
The Highlanders finish the regular season this week with a trip to Giles, and a win insures Glenvar home advantage through the region. If that's not enough incentive, just playing Giles is always a big game for the Highlanders.
"We have to beat them," said Clifford. "This is a huge game."
As of press time the game was scheduled for Friday, but Giles has had some COVID concerns and there was talk of moving the game to Saturday. Wolk is expected to return but Swanson will likely miss the game with an ankle injury.