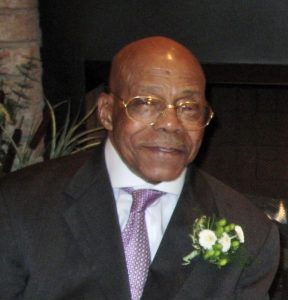 John William Houston was called home from labor to reward to be with the Lord and received his crown on August 13 around 7:00 am. He was born in Cleveland, NC, as the tenth of 12 children of the late Eugene Nathaniel and Ella Chambers Houston.
John, affectionately known as Johnny, was preceded in death by his parents; ten of his brothers and sisters: Alexander, Harold, Theodore, Lethia, Joseph, Helen, Cleona, Faye, Alice, and Hilyoud; aunts and uncles and many other family members. 
Survivors include his loving and devoted wife of 70 years, Charlotte Elizabeth Fisher Houston; children, Gregory Scott Houston of Atlanta, GA, John Allen Houston (Charlotte) of San Diego, CA, Sharon Elizabeth Houston London (Tommy) of Salem, Rita Doreen Houston of Atlanta, and Vera Laverne Houston Glover, of Raleigh, NC; his grandchildren, Michelle Dawnielle London of Denver, CO, John Allen Clark Houston (Mignon) of Oceanside, CA, Justin Scott London of Wilmington, NC, Folana Loren Houston of Atlanta, Alexandria Courtney Houston of Atlanta, Olivia Elizabeth Glover, and Lauren Jouise Glover of Raleigh, NC; two great-grandchildren, Nora Lee Anderson of Wilmington, NC and Atlas John Oliver Houston of Oceanside, CA; his 101 year-old sister, Dorothy Houston Torrence of Newport News, VA, and a host of wonderful and loving cousins, nieces, nephews and friends. He was blessed with and grateful for his loving and faithful caregivers: Alhajie Turay, Michelle Gilliam, Ashley Cunningham, Angel VanDyke, and Shenika Cunningham who became an integral part of the family.
A Celebration of Life Praise Service – 96 years, A Life Well Lived, will be held on Thursday, August 19, from 5:00 to 7:00 p.m. at Hamlar-Curtis Funeral Home & Crematory in Roanoke. The Reverend Sean Burch, Officiating Clergy, Reverend Patricia Smith – Worship Leader and area soloists will minister in song. Due to the rise in COVID cases, in love, the family requests all attendees be vaccinated and face masks required for the safety of everyone, especially our dear Mother. On Thursday, live streaming will be available for unvaccinated friends and family and those who are not able to attend from the Hamlar-Curtis website. Click "View Live Streaming Here" at the top of the screen.
In lieu of flowers, contributions may be made to the Spirit of Unity Baptist Church, 193 Updike, Lane, Roanoke, VA 24019 or Trinity A.M.E. Church at 631 East Florida Street, Greensboro, NC 27406.