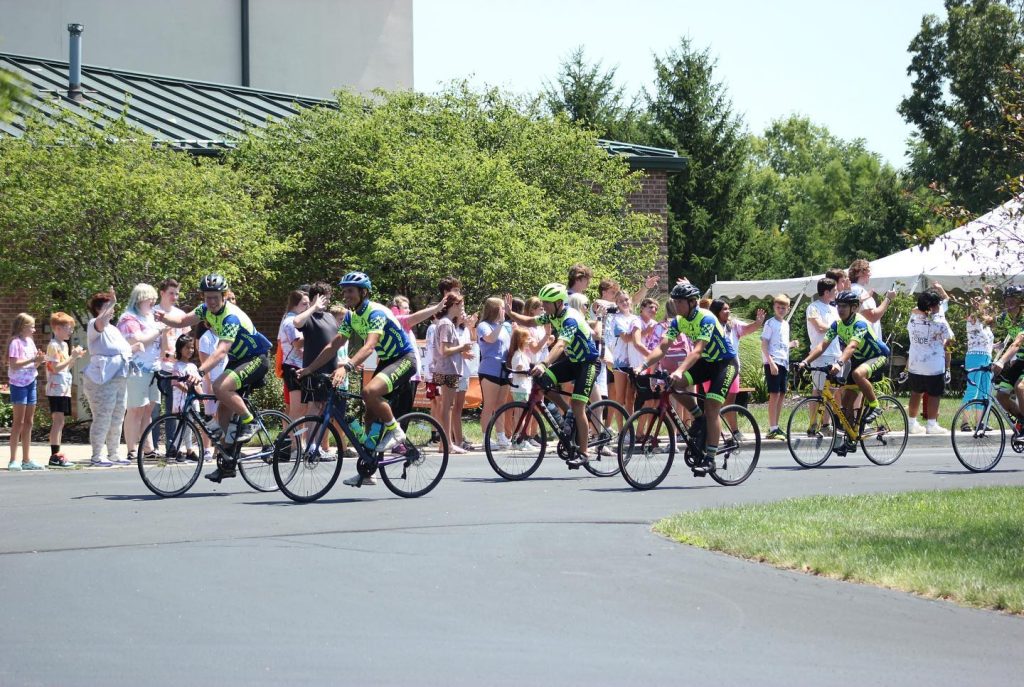 By Alexander Shedd
Last Saturday, August 6, seventeen bicyclists pedaled through New Castle and Craig County on their way across the country. Stopping off at Camp Easterseals for the night, these bicyclists spent their time speaking with locals and working with disabled children at the camp to raise awareness of issues in those communities.
These are the men of Pi Kappa Phi's Journey of Hope, a cross-country cycling trek sponsored by nonprofit The Ability Experience. They signed up for the journey from PKP fraternity chapters across the country, beginning their two-month adventure in Seattle, Washington on June 8 to arrive in Washington, D.C. on August 13.
"The mission is to spread awareness for people with disabilities and organizations that support them as well," said Fernando Cortes, the Journey of Hope's public relations coordinator and one of six crew members that drives ahead of the cyclists. In describing the program, he explained, "We go to 'friendship visits,' where we meet with complex individuals and we go to organizations that focus on helping those people, and we just hang out with them, spend time with them, eat dinner, lunch, have dance parties, draw, color with them, just kind of hang out."
The journey takes the cyclists through a total of thirteen states on their way to D.C. Beginning in Washington state, the cyclists ride east to southeast for 12,000 miles through Idaho, Montana, Wyoming, Colorado, Texas, Missouri, Illinois, Indiana, Ohio, Kentucky, West Virginia, and finally Virginia. Though the trip is incredibly long and difficult, the PKP cyclists are not professional athletes.
"We're just ordinary college students that wanted to do more during the summer," said Cortes. "These guys train ever since they hear about the trip, ever since they get accepted. We have guys who train a month before the trip, and a lot more months before the trip… These are just regular guys that know how to ride a bike, then they really push themselves when they get on the trip."
This year, the Journey of Hope celebrates its 35th anniversary. Cortes noted some of the difficulties in moving through back roads (and sometimes highways) that may be different now than in years past, running into issues such as construction and road blockages that the crew members must figure out quickly to get the cyclists through on time. However, they always hit their August mark on time.
"We're all the same people, even if we may look different or not be as physical as everyone, we're all still one together," Cortes explained the journey's message. "So there's no reason to treat other people differently."
Those interested in joining the Journey of Hope must be enrolled in a chapter of Pi Kappa Phi and apply online through TheAbilityExperience.org.