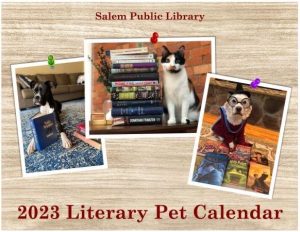 Literary Pet Calendar for sale at Salem Public Library 
Stereotypically, libraries and librarians are associated with cat ownership to the degree that we sometimes joke about using it as an interview question. In ancient libraries and museums, cats had the job of mousing to protect priceless manuscripts from being eaten and destroyed.  In fact, the first record of cats being used for rodent control in libraries occurred in Ancient Egypt in the Library of Alexandria and are credited for generating the idea of putting library materials in alphabetical. Petsis, a sub-librarian at the Library of Alexandria was adopted by a cat he named Myeo who earned his keep by mousing.  More cats were added, and Petsis tallied the daily kills of all the cats in the library.  He discovered it was easier to keep track of the sheets of parchment with the cat's names if they were alphabetized. He then realized that the scrolls in the library could be made more accessible if they were in alphabetical order.    
While cats are a popular choice among staff, we all have our share of dog owners on staff as well as those who have sheep, chickens and rabbits as pets. A staff favorite is Peanut, a dog adopted as a puppy by Library Director Ann Tripp at the beginning of the pandemic, who frequently visited the library when it was closed to the public. Peanut personally greeted each staff member when he came to work.  
The Salem Public Library conducted a literary pet photo contest in 2022 with the winners featured in the library's 2023 Literary Pet Calendar designed by the Youth Librarian Emily Metrock. The calendar is now available for sale for $10 as a fundraiser for the Friends of the Salem Library (FOSL). Get yours while they last and let us know if you are a cat or dog owner.  
Salem Library a drop-off location for LOA Soup for Seniors Drive
The Salem Public Library is once again a drop-off location for The League of Older Americans (LOA) annual Soup for Seniors Drive. Help provide a hot meal on a cold day and remind thousands of seniors in need that the community has not forgotten them. The library will be collecting donations through Feb. 6.  
What is Needed Most:
Low-sodium and nutritious soups

Canned meats (such as tuna)

Canned vegetables

Canned fruit

Crackers

Peanut butter

Oatmeal

Boost or Ensure
LOA also needs volunteers to assist in various ways with this event (540-345-0451)