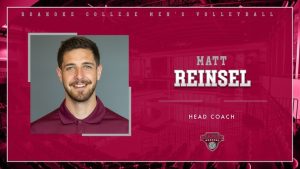 Roanoke College Director of Athletics Scott Allison has announced that men's volleyball will be added to the NCAA sports offered at Roanoke College. 
The addition comes on the heels of wrestling, slated to begin competition in the fall of 2021, being added to the college's roster of athletic offerings. Men's volleyball will bring Roanoke's overall number of NCAA sponsored sports to 23 and is scheduled to begin play in the fall of 2022.
Men's volleyball is not yet sponsored by the Old Dominion Athletic Conference, although the number of ODAC schools sponsoring the sport will be at three with Roanoke joining Eastern Mennonite and Randolph-Macon. Allison will be exploring options to find a conference for the team to compete in that gives Roanoke the best chance to be successful while maintaining a footprint within the region.
"We're excited to be adding men's volleyball to our list of intercollegiate athletics offerings," said Allison. "At the high school and club level men's volleyball is growing swiftly.  In the state of Virginia, there are program hot beds in both Richmond and the VA Beach area. Men's Volleyball thrives in several metropolitan areas all across the East Coast and Midwest and these areas are important to our enrollment efforts."
After a nationwide coaching search, Allison has named Matt Reinsel to lead the Maroons into this new era of Roanoke College Athletics.
"Matt's DIII roots are deep," said Allison. "His experience as an intercollegiate athlete at Carthage, coupled with his stint on their national championship staff, made Matt an extremely attractive candidate." 
Reinsel comes to Salem after a stellar playing and coaching career at Carthage College in Wisconsin. In his four years as a player at Carthage, the St. Louis native concluded his collegiate career ranked second in school history with 3,714 assists, along with an 11.02 assists-per-set average. Reinsel claimed three-consecutive NCAA Division III statistical national championships in assists per set: 10.88 as a sophomore, 10.84 as a junior, and 11.95 (NCAA record) as a senior. His record-setting senior campaign landed him 2019 AVCA Division III Men's Player of the Year and Reinsel was named 2019 Midwest Collegiate Volleyball League Offensive Player of the Year. 
"I am beyond excited to join the Roanoke College athletics staff as head coach of the Men's Volleyball program," said Reinsel. "I would like to thank the athletic department and Scott Allison for granting me this opportunity and supporting Men's Volleyball at Roanoke. To build a collegiate team at this institution is a great chance to contribute to the growth of the sport. I look forward to contributing to the culture of student athletes who are dedicated to their degrees and competition."
The transition from playing to coaching for the four-time American Volleyball Coaches Association Division III Men's All-American and four-time All-Midwest Collegiate Volleyball League honoree was a smooth one. Reinsel went from the court to the sidelines at Carthage as a Graduate Assistant for the past two seasons. This past April, at the Salem Civic Center, Reinsel and the Firebirds completed a perfect, 23-0, season that culminated with the NCAA DIII Men's Volleyball National Championship. In addition to coaching at his alma mater, Reinsel spent time as an assistant coach at Tremper High School while completing his Masters of Education in Sports Leadership.
Reinsel begins his new position at Roanoke in early August.