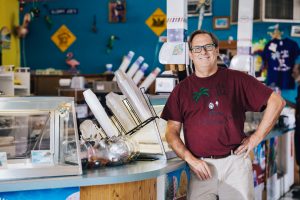 Editor's note: Joe McNamara, who is running for reelection to the 40th District seat in the Virginia House of Delegates, agreed to answer the following questions ahead of the Tuesday, Nov. 7 election. -Aila Boyd
Q: What prompted your decision to run for reelection to the House of Delegates?
A: I have always had a strong desire to help people, particularly those that are most marginalized. My position in the General Assembly allows me to reach more people with stronger results. 
Q: What in your background makes you feel equipped to serve in the House of Delegates? 
A: Raising 5 children with my wife and operating small businesses has allowed me to experience and respond to the pressures facing everyday people. 
Q: In your estimation, what is the role of a delegate and how do you see that role lining up with your idea of leadership?
A: A delegate is a listener, a co-ordinator, and an executor of change for the constituents served. A delegate must be open to conflicting ideas and be able to understand opposing viewpoints.
Q:  What will some of your priorities be if reelected? 
A: As the only Certified Public Accountant in the General Assembly, I will utilize my unique skill set to promote tax fairness with an eye towards simplification. I am also intensely focused on rationalizing the Commonwealth tax receipts with the necessary obligations of Virginia. I will continue to advocate for tax relief for our citizens.
Q: What challenges do you think your district will face over the next two years?
A: Like Virginia, our District will continue to be challenged to best utilize our strengths as we maximize our effectiveness as a region. We have tremendous industry clusters in biotech, healthcare, automotive supplies, and others to help allow us to effectively compete. 
Q: Is there anything else you'd like voters to be aware of before voting?
A: Most importantly, I would like every eligible voter to exercise their right to vote by election day. We live in the greatest country in the world, and I am continually grateful for the men and women who have earned our freedom. Please thank a veteran, first responder, a teacher, and a nurse today.