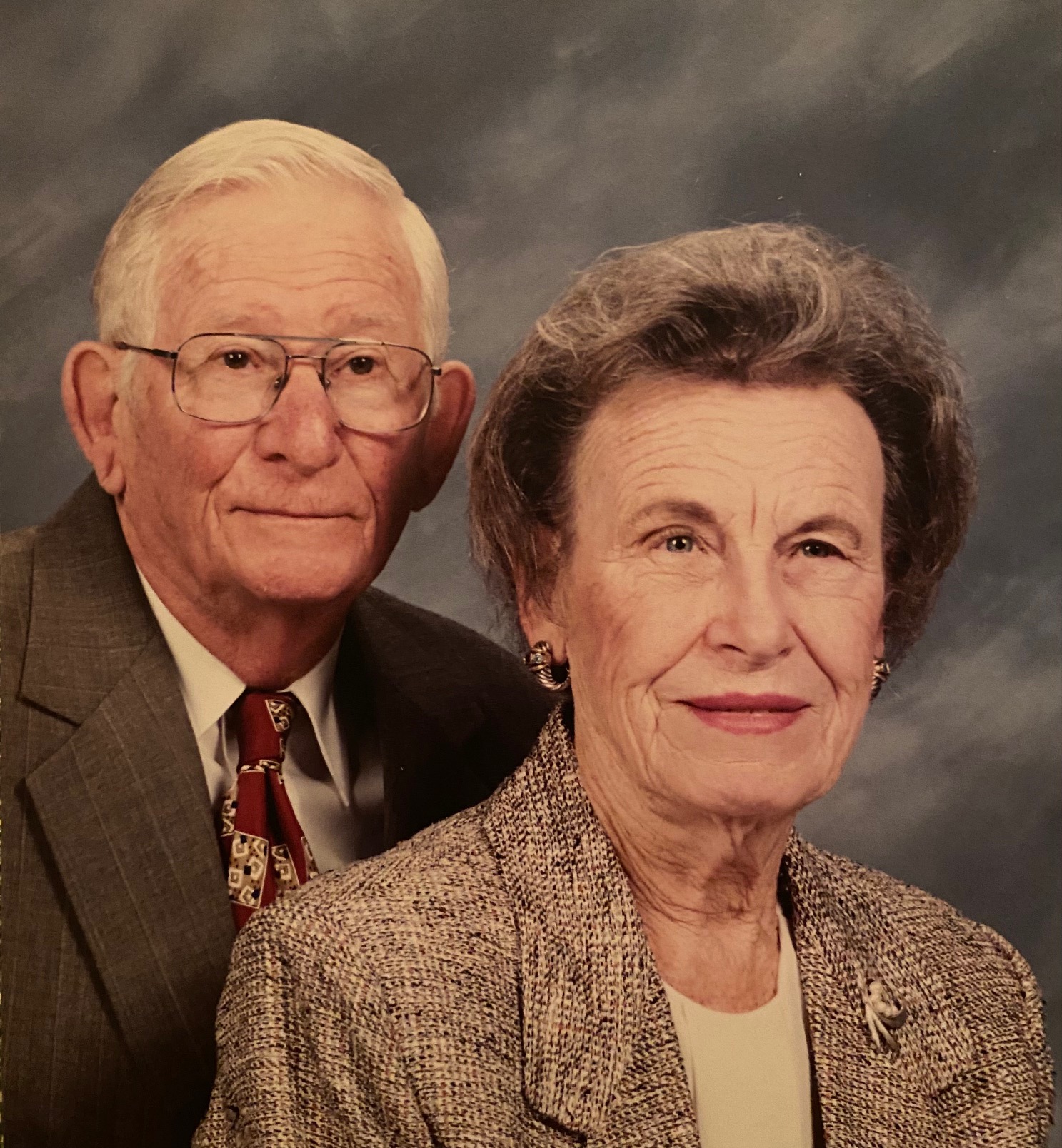 Thelma Joyce Miller of Salem passed away peacefully in her sleep on Saturday April 22, 2023 at the age of 98, just weeks after having her driving license renewed.  Thelma was born in Richmond, VA on Feb. 6, 1925 to Virginia Kate Garrett Joyce and Perry Mack Joyce, Sr.  She grew up in the Woodland Heights neighborhood of Richmond, spending time in the summers with beloved cousins in Danville and Henry County, Virginia where her parents eventually retired.  She graduated from John Marshall High School in 1942 after which she worked for the State of Virginia at the Capitol.  Thelma and her husband L.C. Miller, Jr. were married in 1945, four days after her 20th birthday. Theirs was a long and happy marriage, a match made in heaven where they are now reunited.   
Thelma was a multi-talented and tireless servant and leader.  She served as President of the Salem Junior Women's Club where she made lifelong friends.  She was cherished by the congregation of Salem Baptist Church for over seventy years where she served many roles, perhaps most notably as flower-arranger-in-chief. She was a founding member of Salem's Friendship Garden Club and won multiple awards at local flower shows over the years.  Many Salem weddings were blessed by her flower arrangements.  She loved working in the garden and was known for the beautiful landscaping at her homes.  Thelma and LC were also founding members and the travel organizers in Salem Baptist's Be Active Live Longer (BALL) group.
Thelma and LC were avid travelers.  They had a home on the Outer Banks of North Carolina where they hosted friends and family for over 30 years.  They called Sanibel, Florida home in the winter and made many friends there, as well.  They took long trips in their motorhome, both with rambunctious grandchildren and their many friends.  Those trips included one to Alaska, two to the west coast and several to Louisiana for LSU football games and visits with L.C.'s college buddies there.   In recent years Thelma would marvel at how blessed she was to have seen so many wonderful places and made so many wonderful friends.  She felt abundantly blessed and expressed that often.
Thelma never met a stranger.  She spent the last two years of her life at Richfield's Lake Retreat where she quickly connected with the community there and where she will be missed.  
She is preceded in death by her husband L.C., her parents Virginia and P.M. Joyce, Sr., her beloved grandson David Smith, her brother Perry Mack Joyce Jr., and many relatives and friends.  Left to cherish her memory are three children:  Virginia Joyce Miller (Don) of Hertford, NC, L.C. Miller III of Roanoke and Vivian Miller (Don) of Los Alamitos, CA.  She was the beloved Granny to seven grandchildren including the late David Smith of Salem, Allison Smith Hall (Justin) of Wirtz, IV Miller of New York City, Robert Baird (Jenny) of Los Angeles, Jamey Miller (Kristy) of Roanoke, Travis Miller (Krisanna) of Richmond and Caroline Snyder of Los Alamitos, CA.  She leaves behind ten great grandchildren.   
Interment will be private.  A celebration of life will be held at 11 a.m. on May 3 at Salem Baptist Church, 103 N. Broad Street, Salem, VA followed by a reception in the Fellowship Hall.   Friends may also visit with the family and each other on May 2 in the evening from 6-8 p.m. at John M. Oakey and Son Funeral Home in Salem. 
Flowers are welcome and fitting, or donations can be made in her honor to Salem Baptist Church or a charity of your choice.