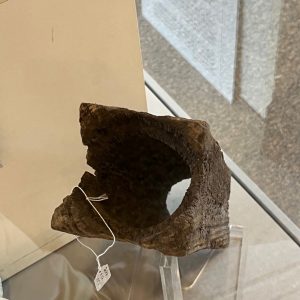 Have you ever seen a 150-year-old water pipe? Neither had the staff at the Salem Museum, but that is exactly what this is!  You can see it now at the Salem Museum.
This wooden pipe is from approximately the 1870s, when Salem installed its first water plumbing. These pipes ran underground along the same lines that the modern pipes run today. Despite its age and material, look at how clean cut the hole in the middle is.
This section of pipe was found along South College Avenue when some construction was being done on the road. Thanks to the City of Salem Water Department for this fun donation.
This water pipe is currently on display as part of the Salem Museum's feature exhibit "Cheers for 30 Years: the 30-Year History of the Salem Museum!"  
"Cheers for 30 Years" celebrates the Salem Museum's 30th anniversary with a look back at artifacts and the stories they tell, now preserved in the museum's collections. Some favorite, but rarely seen, objects are on display. The Salem Museum is open Tuesday through Saturday from 10 a.m.-4 p.m. and located at 801 E. Main St. The Salem Museum opened in the Williams-Brown House in 1992.