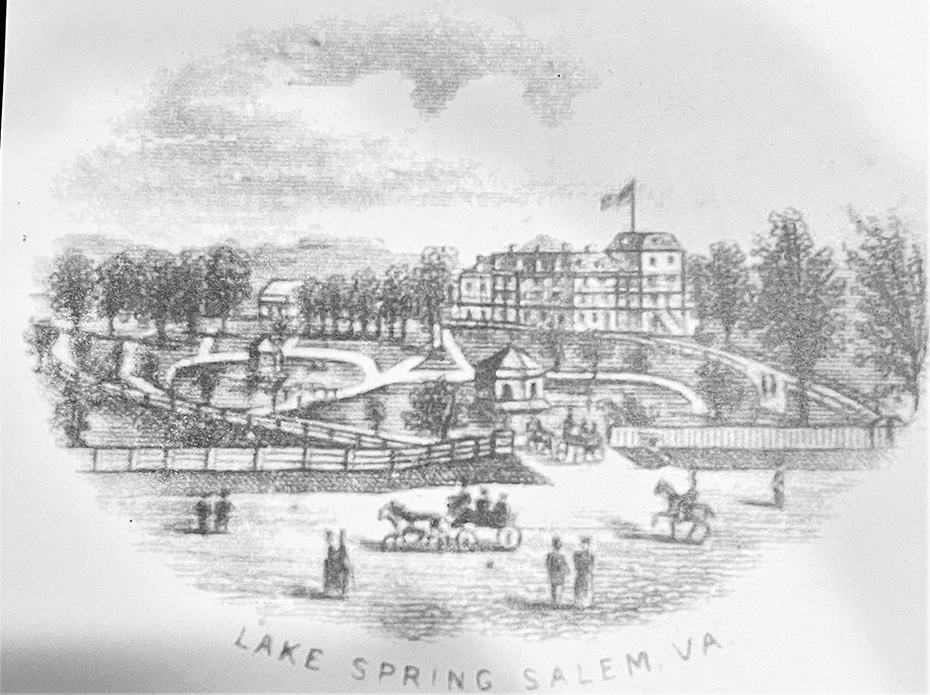 Lake Spring Park is always one of the prettiest spots in Salem in the Spring, but in the late 1880s, it was even more grand. Salem's "Duck Pond" was once the site of the Lake Spring Hotel, considered by many to be one of the top vacation resorts on the East Coast due to its healthful mountain air.
The owners, Clementine and F. J. Chapman, offered a variety of entertainments: elegant dances, boating and fishing, billiards, bowling, baseball, croquet, even jousting tournaments! A fire broke out during a formal dance in 1892, and although guests in their finest attire formed a bucket brigade from the lakes to the burning building, the Hotel was destroyed. 
Visitors to the Salem Museum can learn more about the Lake Spring Hotel and pull on a glove to touch and examine historic artifacts during Hands On History Saturdays. This month features objects related to the Museum's upcoming exhibit, "Through Their Eyes," opening on March 25.  The exhibit highlights 16 major events dating back to 1671, including the demise of the Lake Spring Hotel, that have shaped Salem and the Roanoke Valley into the community it is today.  History gets personal when seen 'through the eyes' of men and women who lived here at the time.
To celebrate the exhibit's opening, the Salem Museum is hosting a Living History Day on Saturday, March 25 from 10 a.m. to 4 p.m. Admission is free. Costumed interpreters representing the 17th through the 20th centuries, including Mr. and Mrs. Chapman of the Lake Spring Hotel, will be on hand with stories and touchable artifacts to bring regional history to life.