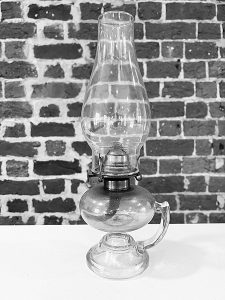 Before lightbulbs and electric lamps, oil lamps were a main source of light.  Oil stored in the base was absorbed by a fabric wick, which fueled the flame once lit.  These lamps could last longer than a candle and were reusable, which made them popular. 
You can see this oil lamp on display this weekend as part of the Salem Museum's Hands-On History Saturday program.  In March, Hands-On History highlights "Through Their Eyes," the Museum's upcoming exhibit.  On Saturdays, visitors can pull on a glove and touch a piece of history with their own hands.  
Come to the opening of "Through Their Eyes" on March 25.  This exhibit highlights 16 major events, dating back to 1671, that have shaped Salem and the Roanoke Valley into the community it is today. History gets personal as seen 'through the eyes' of men and women who lived here at the time. The Gallery features personal narratives, pictures, maps, artifacts, hands-on elements, and augmented reality technology. 
To celebrate the opening, the Salem Museum is hosting a Living History Day on Saturday, March 25, from 10 a.m. to 4 p.m.  Admission is free. Costumed interpreters representing the 17th through the 20th centuries will bring the region's history to life.