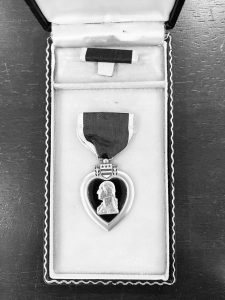 The Purple Heart is one of the most recognizable and most revered distinctions in the U.S. military.  It is awarded to soldiers wounded or killed while serving in the military.  It recognizes that the soldier has greatly sacrificed themselves, or made the ultimate sacrifice.
The Purple Heart is based on one of the oldest military awards actively presented to U.S. soldiers. Although the first modern Purple Heart was awarded in 1932 to veterans of World War I, it is based on a practice George Washington began during the Revolutionary War. Washington awarded the Badge of Military Merit to soldiers in the form of purple cloth shaped like a heart.  This is why Washington is pictured on the modern medal.  
You can see this Purple Heart on display this weekend at the Salem Museum as part of the Museum's Hands-On History program.
On Saturdays, visitors can pull on a glove and touch a piece of history with their own hand.  In February, Hands-On History highlights items from the collection related to the D-Day Invasion of Normandy during World War II.  Salem Museum is open Tuesday-Saturday 10 a.m.-4 p.m. and located at 801 E. Main St.