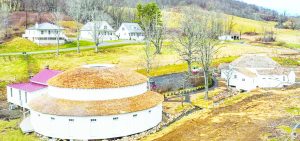 Aila Boyd
aboyd@mainstreetnewspapers.com
After years of sustained advocacy efforts at the grassroots and state level, the historic Warm Springs Pools, also known as the Jefferson Pools, reopened for public bathing in December.
On Jan. 19 at 7 p.m., Julie Langan, the director of the Virginia Department of Historic Resources, will present a talk about the strategies and tools employed by various stakeholders who fought to save these iconic structures. She will describe how the bathhouses, a key component of the Bath County economy, transitioned from a preservation emergency to a preservation success.
The talk is part of the Salem Museum Speaker Series and will be presented on Zoom only. The link will be posted on the museum's website, salemmuseum.org, on the morning of the event. The talk will also be recorded and available via the museum's website after the talk.
"Before our hometown hero Andrew Lewis was a general, he was a surveyor and the first to survey Bath County's warm springs. He was also an early investor in the first hotel on the site. Today, the Warm Springs Pools at the Omni Homestead Hotel are a favorite getaway location for many in the Roanoke Valley, but preserving the iconic bathhouses that draw visitors to "take the waters" is a real challenge," Frances Ferguson, executive director of the museum and historical society, said.
The first recorded survey of the area was done by Andrew Lewis and his father who obtained 140 acres of land that included the warm springs. Lewis was an early partner in the venture to build the first hotel on the site in 1766. The original octagonal stone basin that held water for bathing was built in 1761, establishing it as the first spa structure in America.
Over time, the hotel built a reputation as a luxurious, secluded retreat. Many prominent Americans visited in order to experience both a physical and spiritual rejuvenation. The most significant of these guests included Thomas Jefferson, who stayed at the hotel in 1818.
Guests are once again able to "take the waters" at the historic Warm Springs Pools, now part of The Omni Homestead Resort. The bathhouses reopened in December, following the completion of a 14-month, $4 million rehabilitation.
Langan is also the state historic preservation officer for the Commonwealth of Virginia. First appointed as acting director by Gov. Bob McDonnell, she has been reappointed by governors McAuliffe, Northam and Youngkin. In this position, Langan manages one of the largest state preservation offices in the country and oversees a dozen state and federal preservation programs.
Langan has twice been on the staff of the department for a combined total 25 years. Immediately prior to her appointment, Langan served as the department's deputy director for preservation programs. 
Langan has a graduate degree in architectural history from the University of Virginia and an undergraduate degree in art history from Wheaton College in Massachusetts.