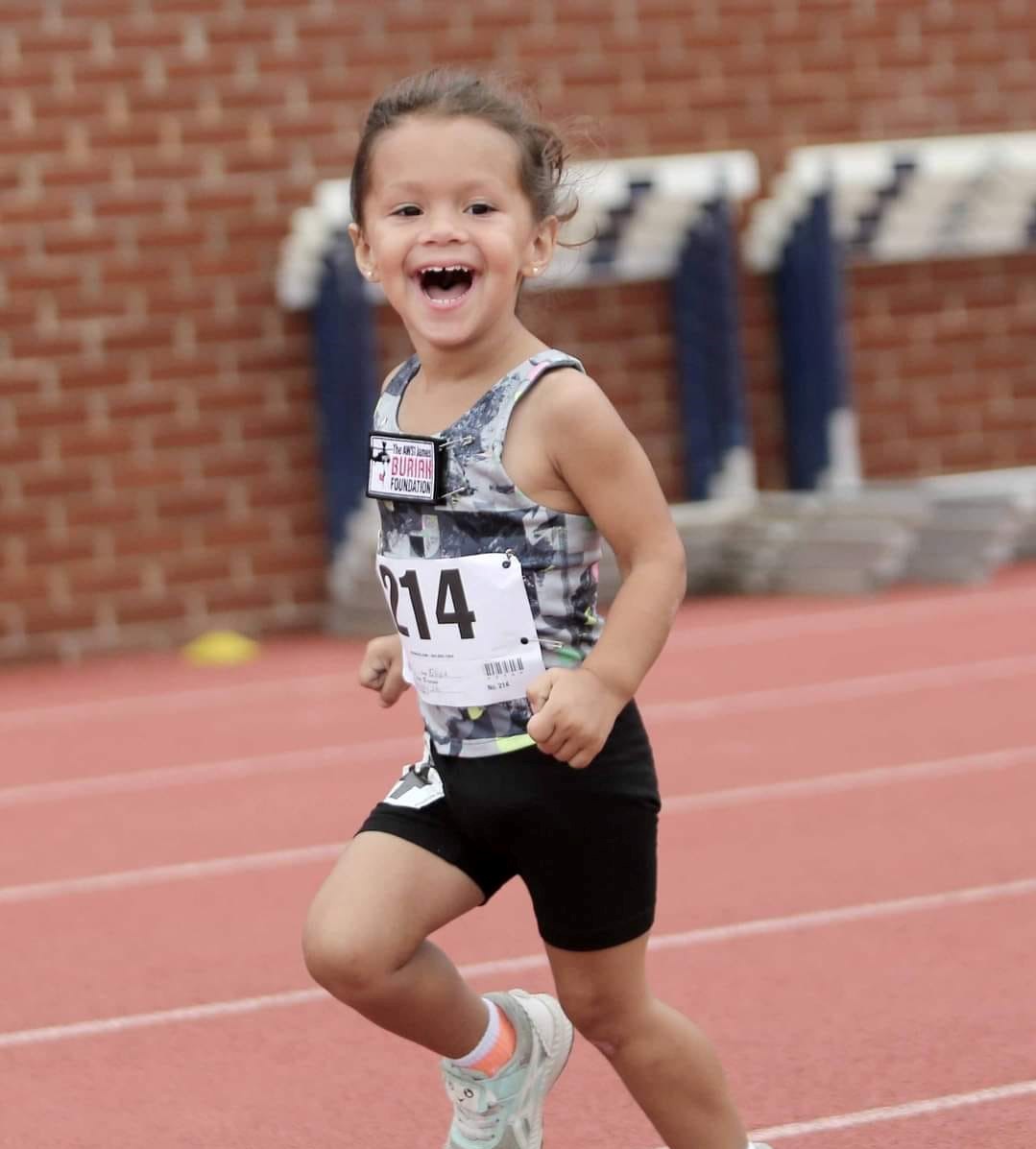 She runs to support the AWS1 James Buriak Foundation 
Megan O'Kuly
Contributing writer
In the world of athletics, stories emerge of young talent coming from unexpected places. One remarkable local story is Olivia Hawes, a three-year-old running prodigy who has been making headlines with her incredible feats on the track. 
"By five months, she was walking. At just eight months, Olivia was not just walking but running around our apartment. We were amazed," her mother recounted. Her parents, stunned by her early walking abilities and boundless energy, eventually took her to the local track out of curiosity – and little Olivia didn't just walk but started running.
Olivia's mother, Angel Hawes, said "We really didn't expect anything to come from it. We thought we were going to take her to the track and we were never going to do it again.  But she loved it. We just walked all together as a family on the track and she really enjoyed it, so we did it again."
Olivia's first run was at Northside High School in Roanoke, where her father went to school. "Within a month, we were running as a family several times a week. By the time she was one year old, she had already run 100 miles," her mother said.
Additionally, at just 18 months old, Olivia became the youngest athlete ever to compete in the Virginia Commonwealth Games, a testament to her love of running. Last year, at the age of two, she set a certified record by completing a 50-meter race in a remarkable 19 seconds. 
Olivia's story is not just about running; it's also about making a positive impact. She's involved in races that support philanthropic causes, such as the AWS1 James Buriak Foundation, a nonprofit organization that was started to honor Salem native James Buriak who died in 2021 in a Naval helicopter crash off the coast of San Diego. The organization is dedicated to helping military families in need. Her father was a Navy rescue swimmer, which is why the whole family feels it is important to make sure Buriak's name is never forgotten. A recent race, where Oliva ran her 200th mile held significant meaning, as it raised awareness and support for a cause close to their hearts. 
Having recently celebrated her third birthday, her parents have ambitious goals for her future. They believe she has the potential to become an Olympic athlete and hope to continue to support her passion and dedication. "We truly believe that she has a natural talent, that as long as we facilitate that in a healthy way, she's destined for the Olympics. It's not about pushing her; it's about fostering her love for running while making sure it remains fun for her," her mother explained.
Olivia's parents are committed to maintaining their dedication to encouraging her to run. They've set up a home gym, upgraded their treadmill, and ensured she has various tracks to run on. Despite the challenges of raising a running prodigy, they're determined to support her. Reflecting on Olivia's love for running, her mother said, "She has a collection of 46 medals, and she loves to pick one and wear it proudly. It's adorable to see how much they mean to her."
In the world of running, Olivia's story is both extraordinary and heartwarming. Her trek from taking her first steps to being a record-breaking three-year-old runner suggests a promising future in running. Olivia's story is one of inspiration, love, and wonder. And as Olivia continues to set records and win hearts, the local community eagerly watches her run, rooting for her every step of the way. 
Olivia was born in Roanoke. Her parents later moved from Salem to Lynchburg and now live in Blacksburg.