Janie Peters, lovingly known also as Nana, Mawmaw, Ms. Moo and other special nicknames, touched the lives of countless students and people throughout Craig County schools and the community. Her job at CCPS involved more than just dishing out food, she dished out love and hugs to everyone too.Pam Dudding
Contributing writer
At the February School Board Meeting, Craig County Superintendent Jeanette Warwick began things with a moment of silence in memory of Janie Peters, later asking everyone to "keep the CCPS family in their thoughts and prayers as this is definitely a void in our cafeteria."
She went on to read a thank-you note from the family that said, "CCPS family, our family cannot thank you enough for all the kindness you shown our family during this difficult time. Your thoughtfulness, kindness and generosity during this difficult time meant so much to all of us. You were our mother's family as much as we are, and we love you for that. Love the Peters family."
Peters started her career as a cafeteria worker full-time in the 1983-84 academic year, but was a substitute before that in the old New Castle High School and McCleary Elementary.
To keep her memory alive, the family established a Janie Peters Memorial Fund at Carter Bank and Trust in New Castle for people to make donations.
"We would like to keep feeding the kids at CCPS in our mom's memory," daughter Rebecca Peters Crawford shared on Facebook. "She would never let a kid go hungry or without ice cream on their ice cream day. We would like to thank everyone in advance for helping us to make this a success to keep our mom's memory alive doing what she did for over 38 years."
Within a few short days, almost 200 people on Facebook responded to the post. Some heartfelt responses that stood out were:
"What a very compassionate thing to do! Your mom would have given anyone the shirt off her back. So loving and caring to so many young and old!! Her shoes will be hard to fill!!! Love this and so would she"
"It is such a great testimony to your mom and the love she had for the kids of this community"
When Peters started working at the school, her children, Kristopher, Zachary and Rebekah were in the third, second and kindergarten grade levels, respectively.
"She would always make us ride the bus to school when we were younger, because we would make her late to work," Rebekah said. "As we got older, she started letting us go with her and we would have to sit in the cafeteria until it was time to go to class."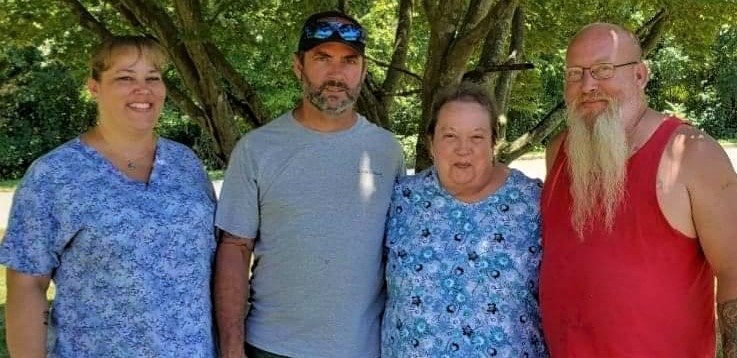 They joked later in life, as they said that once they entered high school and were driving themselves, she somehow always knew when they were late, skipped or decided to leave early.
Musician and CCPS graduate Joe Francisco was also a friend to Peters. He recorded a song and posted it on Facebook in her honor. "I'm dedicating it this evening to her family. May it bring them a little peace in this hard time! We love you, Janie," he said before playing the beloved song, "Amazing Grace – My Chains are Gone."
Shared CCPS School Nutrition Supervisor Sherry Crowder, "Janie was a loving lunch lady that always looked out for her kids and of course that was any student that passed through the cafeteria for the past 30 plus years. She always had a 'Good Morning', a hug for someone that was not having a good day or just willing to listen to their problems. Janie was a selfless person and always thinking of herself last. She was kind, sweet and had a way of making you smile even if you were having the worst of days."
Fellow cafeteria employee Nancy Fisher said the following, "I can't say enough good things about Janie. We've been friends for 40 years and worked together for over 30. She would always look out for the kids whether it was a smile, a hug or a child who wanted a snack or extra food, but they didn't have money for, she would use her own. She has always been a giving person and never expected anything in return. She will be missed by so many."
For this kind of love, the family chose to set up a fund in Janie's memory at Carter Bank.
"The fund is more than just ice cream," the family shared. "The fund is for breakfast, lunch, snacks, ice cream or whatever may be needed."
It has been repeated by many that she loved everyone, not just the kids and she would freely give lots of hugs in a day's time.
"For some kids, she knew it would be the only hug they would get for the day," Rebekah said. "It didn't matter who you were or who your parents, grandparents or any other family members were. It didn't matter rather they were rich, poor, clean, dirty, special needs or anything in between, she would love you just as you were."
Peter's family remembered that she also spent many nights sitting in the emergency room with kids other than her own, and, "if a child needed a ride, a place to stay, babysitter or just a listening ear, she was always willing to be that person."
Rebekah fondly added, "Parents have even been known to come visit their kids at her house because kids would come stay days, weeks or even months at a time if they needed a place to stay. It didn't matter the reason; you were always welcome."
Peters would also always "cook dinner for a small army" because they never knew who was going to show up for a meal. Crowder added, "Janie was a precious friend and co-worker that I loved very much. She will be missed greatly but will live in my heart forever."
Noting in honor of Janie from an unknown author, "When someone you love becomes a memory, that memory becomes a treasure."