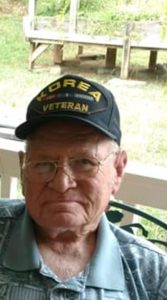 Kenneth Warner (Snook) Proffitt, 89, of Blue Ridge, departed this life for heaven on Sunday, April 19.
Ken was born in Buchanan on May 27, 1930, to Merle Elizabeth Sloan and Wilber Barker Proffitt. Ken was preceded in death by four siblings, Bill Proffitt, Marie Proffitt, Claude Proffitt and Jean Proffitt Spangler.
Left to cherish his memory are his wife of 63 years, Jean Begtrup Proffitt; four daughters and their spouses, Linda and Tim Hullett, Diane and Toney Smith, Penny and Eric Metz and Sandy and Danny Hart; 12 grandchildren and nine great-grandchildren. Also surviving are three siblings, Bernie Proffitt of Totowa, N.J., Barbara Proffitt Hill of Buchanan and Bonnie Proffitt of Lexington. He also leaves many "like" family, nieces, nephews, cousins and friends to cherish his memory.
Ken joined the Army and served in Korea 1951-1952. He met the love of his life on April 12, 1956, and they were married on January 25, 1957, in Wayne, New Jersey. They moved to Virginia in 1972 where Ken worked for and retired from Estes Express in 1994. He then worked for Paul Bunyan's Tree Service until 2011. Ken was active in the Buchanan Veteran community. He was a nearly 25-year Comrade in the Veterans of Foreign Wars, joining on Veterans Day, Nov. 11, 1995, as a Life Member of Veterans of Wars Post 5895 serving in several officer positions in the VFW to include Vice Commander and Trustee. Ken was also a 20-year member of American Legion Post 93. He had also donated over 30 gallons of blood to the American Red Cross.
Ken and Jean enjoyed volunteering at the Rescue Mission and loved to travel. They have been to all 50 states. Papa Ken loved his family so much and loved to spend time with them and his friends. He loved to talk and didn't really meet a stranger. He will be sorely missed by so many. The family wishes to thank the staff at VAMC and everyone who has reached out to us all at this time.
A memorial will be planned at a later date. Online condolences may be made at www.botetourtfuneralhome.com or 540-254-3000.