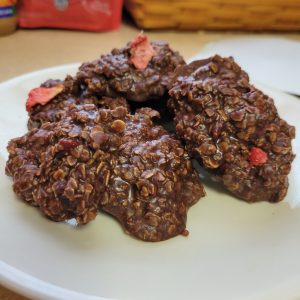 I was cleaning out a drawer the other day and found my high school yearbook. I got derailed from my cleaning and had to look through it. I came across a picture of the cooks for the high school. Yes, my yearbook had pictures of the lunch ladies, custodians, secretaries, the board of education and the bus drivers. I then had a thought about one of the lunch ladies, Ms. Janet, she gave me a recipe that I still have. Written on notebook paper in a pretty, cursive script, it is one of my favorite cookies.  My school made these and you could buy one for 25 cents. Ms. Janet called them bon-bon cookies, but if you look up bon-bon cookies these are not the same. When I moved to Virginia, I found out they were called preacher cookies. I have since heard them called cow patties, poodgies, no-bake cookies or boiled cookies.
     Technically, when you make no bake cookies, you are making candy. Boiling butter and sugar together are a classic candy-making technique. Preacher cookies are a hybrid between a candy and a cookie. They are made by mixing a filler (such as cereal or nuts) into a sticky binder. The cookies are shaped into individual treats or pressed into a pan and cut as bars, and then cooled to harden. Rice Krispies treats, Haystacks, and rum balls are good examples of popular cookies that are not baked. What sets these treats apart from other cookies is that they do not require the use of an oven. No-bake cookies became popular in the U.S. during the Great Depression when ingredients like eggs, flour, sugar, and butter was scarce. While no bake cookies are easy to make it is also easy to ruin a batch. Some common mistakes include boiling for too long or not long enough. If left on the counter at room temperature, it should take 30-45 minutes for your no-bake cookies to be fully set. You could also pop them into the fridge to speed up the process, so they harden in about 15 minutes. While dry and crumbly no-bake cookies are due to boiling for too long, gooey cookies that aren't set up are because the mixture wasn't boiled enough. Additionally, humidity levels could also affect your no-bake cookies. This depends on the recipe and ingredients used, but many people avoid making no-bake cookies on rainy days or with high humidity levels.
Chocolate covered strawberry bon-bon no bake cookies
½ cup butter
2 cups granulated sugar
½ cup milk
½ cup unsweetened cocoa
3 cups quick oats (uncooked)
1 cup about 1.2 ounces crushed freeze-dried strawberries
1 teaspoon pure vanilla extract
Instructions
In a heavy bottomed saucepan, melt the butter. Add sugar, milk, and cocoa. Boil your cookie mixture over medium-high heat to prevent burning them. Bring the mixture to a boil and let it boil for 1 minute. Once it reaches a full rolling boil, set a timer for 1 full minute. Make sure the timer does not start until it is at a full rolling boil!
Remove from heat. Add oatmeal, crushed strawberries, and vanilla. Stir to combine. Drop a large spoonful onto aluminum foil. Allow cookies to cool. 
To make plain chocolate cookies leave out the strawberries. Some variations to try including adding ½ cup of chopped walnuts, unsweetened dry coconut, or mini marshmallows. You can also use 1 cup of peanut butter and omit the cocoa and strawberries to make just peanut butter cookies.