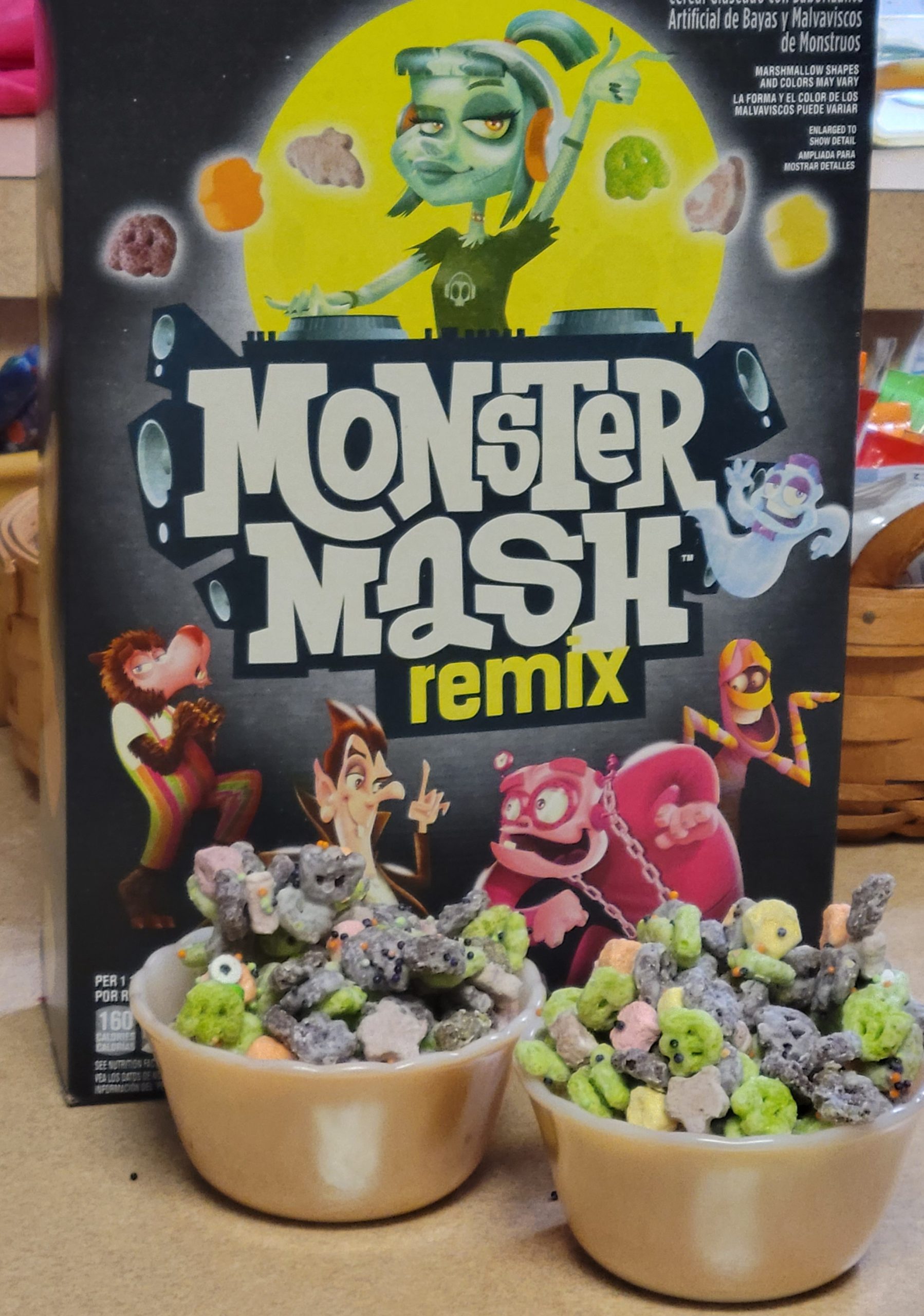 It's finally October! 
 While I worked at Food Lion last year, I got to see the monthly holiday items. They were put in a special section right in front of my register. Around Halloween, the candy was there but so were the cereals. I loved Boo Berry cereal growing up and I was lucky because my mom bought it for me every year. General Mills debuted Count Chocula and Frankenberry in March 1971, both mascots were inspired by horror movie characters. These two cereals were the only chocolate and strawberry flavored cereals on the market at the time. Boo Berry (blueberry) was launched in December 1972. These three monster cereals have been in production ever since. Until 2009, they were available year-round, now they appear around Halloween. Frute Brute (a werewolf) was introduced in 1974. He was not as well liked and he was retired in 1982. Later Yummy Mummy came along in 1988, another fruit flavored cereal like Frute Brute but was only around until 1992. According to generalmills.com, these monster cereals had animated commercials that showed the monsters scared of pretty much everything, kids, black cats, birds, ghosts, and each other. I don't remember the commercials but I do remember the box promotions. Glow in the dark stickers, monster masks, paint sets, coloring posters, and more, my favorite was the record on the back of the box. You would cut out the record and play it on your record player. In 2021, to celebrate the fifty-year anniversary, all five monsters were put together in one limited edition cereal, Monster Mash. This year, General Mills has added a new monster themed cereal to the lineup. Carmella Creeper is a green zombie with a caramel apple flavored cereal. All six monsters are back together in another Monster Mash remix cereal. This week's recipe is an addictive Halloween snack mix using these monster cereals. 
Monster Mash snack mix: Ingredients
2 cups Count Chocula cereal
2 cups Boo Berry cereal
2 cups Frankenberry cereal
2 cups Frute Brute, Yummy Mummy, or Carmella Creeper cereal (or a mix of all 3) 
1 ½ cups white chocolate candy melts or white almond bark
Assorted Halloween sprinkles of your choice
Spread the cereal onto a large rimmed baking sheet, then pick out all of the marshmallows. Set marshmallows aside and place the cereal in a large bowl. 
Heat the candy melts according to package instructions. Pour over cereal and stir to coat. Spread out onto a wax paper covered baking sheet. Sprinkle with Halloween sprinkles and let dry.
Once dry, add in the marshmallows to the mix.
Store in an airtight container.