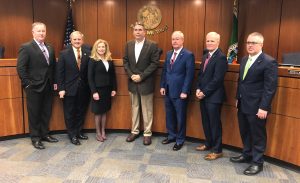 Debbie Adams
Contributing writer
The Roanoke County Board of Supervisors met in their annual reorganizational meeting on Jan. 10 to select a new chair and vice chair. Martha Hooker, who represents the Catawba District was named Chair for 2023. She was first elected to the board in 2015; this will be her second term as chairman.
Paul Mahoney, who represents the Cave Spring District, was named vice chairman for 2023. He was first elected to the board in 2019, but previously served as its attorney for many years. 
The board recognized Howard Hall, Roanoke County chief of police, who retired on Jan. 1 after serving the county for 10 years and five months, along with Assistant Chief of Police Chuck Mason who served the county for over 48 years, and also retired on Jan. 1.
Director of Real Estate Ken Fay briefed the board on the results of the 2023 Real Estate Assessment through Nov. 9, 2022. The county conducts the assessments annually. While the results are still being refined by staff, data seems to indicate an increase of 10.59% in real estate assessments based mainly on an increase in market value of property in the county. Real estate assessments had increased by 6.9% the previous year in 2022.
Fay said, "Real estate values have increased significantly at the local, regional, and national levels due to limited supply and favorable mortgage rates." He noted, "Citizens who buy and sell real estate in the open market establish values by how much they are willing to offer/accept for individual properties."
The median sales price for a single-family residential home in Roanoke County in 2022 (as of Nov. 9, 2022) was $299,000.
Fay also remarked that "Differences exist between individual properties and between neighborhoods across the County."
In 2022, the assessed value of residential and commercial real estate in Roanoke County totaled $9.96 billion. That number has increased by 10.59% in 2023 to $11 billion.
The board continued the discussion on real estate assessments and a variety of other issues affecting the FY2024 budget in a work session following their regular meeting. Supervisors received information on the financial implications of reducing the current tax rate of $1.09/$100 by one to three cents. A $.01 reduction in the tax rate equates to $1.004 million in revenues.
Public hearings will be held on the tax rates on March 14 and April 11, with new rates to be adopted at the April 11 Roanoke County Board of Supervisors meeting.
Assessment notices to taxpayers were to be mailed on Jan. 10, 2023.