The Salem Civic Center announced late last month that it has instituted a new clear bag security policy for all events. The policy will go into effect Saturday, Sept. 17, the date of the Gary Allan concert.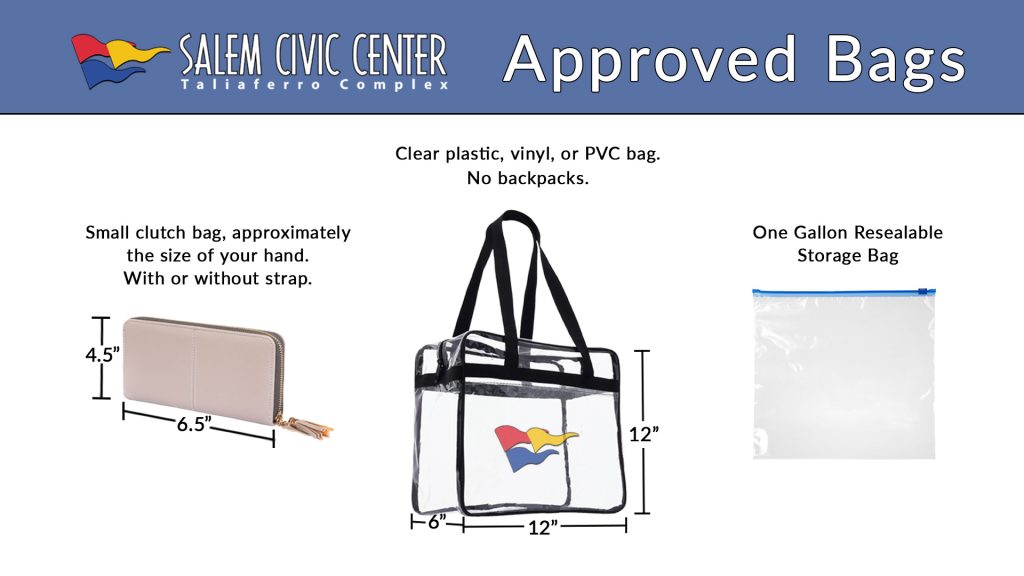 The new policy is designed to regulate the size and types of bags that may be carried into the venue for all events, the center said.
"We are constantly reviewing our safety and security procedures," Wendy Delano, the center's director of civic facilities, said. "Having a clear bag policy will provide a safer environment for our valued guests and will speed up the screening process for them as they enter the venue."
The types of bags the center will permit include bags that are made of clear plastic, vinyl or PVC, clear bags that are not larger than 12 inches tall, 6 inches deep and 12 inches wide, one-gallon plastic freezer bags and small clutch bags that are approximately 4.5 inches tall and 6.5 inches wide.
Items that are prohibited from being carried inside the center going forward include purses larger than a clutch bag, coolers, briefcases, backpacks, fanny packs, cinch bags, luggage of any kind, computer bags, camera bags and any bag larger than the permissible size, according to a release from the center.
"Fans are strongly encouraged to carry as few items as possible when coming to the Salem Civic Center," the release said.
-The Salem Times-Register