by Brain Hoffman
The Salem High girls will be playing in the state Class 4 soccer tournament after clinching a spot on Tuesday by defeating E.C. Glass in Lynchburg. The Spartans took a 2-1 win over the Hilltoppers in the Region 4D semifinal and will play Blacksburg, in Blacksburg, tonight for the Region 4D championship.
Both of tonight's participants have clinched a spot in the state quarterfinals, which are scheduled for next Tuesday. Tonight's winner will get a home game to open the state and the runnerup will go to the site of the Region 4C champion.
Salem is now 13-5-1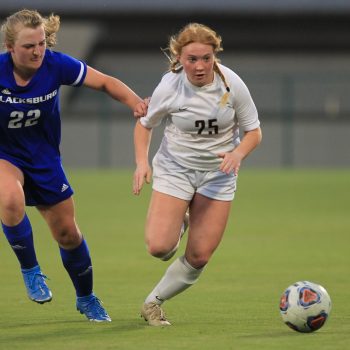 on the season and three of the losses have been to Blacksburg, so tonight's game is a chance to get some revenge on the Bruins. Blacksburg defeated Western Albemarle in the other region semifinal on Tuesday, 1-0.
The Spartans came into the tournament as the sixth seed but have played above that seed in the two games so far. Last week Salem opened the regional with a 5-0 win over third seeded Halifax County in South Boston. Salem scored four their five goals off set pieces, finishing three off 13 corners and also scoring off a free kick.
Brooke Bowers took 10 corners and Avery Mangus scored off two of them. Blair Bowers took two corners and Audrey Hayes snuck a goal in through the middle with a beautiful finish on one of those corners.
Kenley Coleman shot the ball from outside of the 30 yard line and scored off a drop pass form Audrey Hayes and Kenley also took a free kick and connected with Mangus for a goal off a header. Allison Kessel and Kennedy Scales combined for the shutout in the cage.
On Tuesday Salem grabbed an early lead when Mangus scored off an assist from Annie Bond, giving Salem a 1-0 lead at the half.
"At half I reminded them to settle in. We were giving the ball away a lot in the first half and not winning big balls in the middle," said coach Kayla Wood. "Adjusted a few things concerning our attack and the girls just kept grinding."
Salem upped the lead to 2-0 when Abby Pitts banged home a goal off a rebound shot from Bond. Glass scored a late goal but the Spartans were able to hang on as Kessel had 10 saves, including a couple one-on-one denials as Salem held on for the big win.