By Brian Hoffman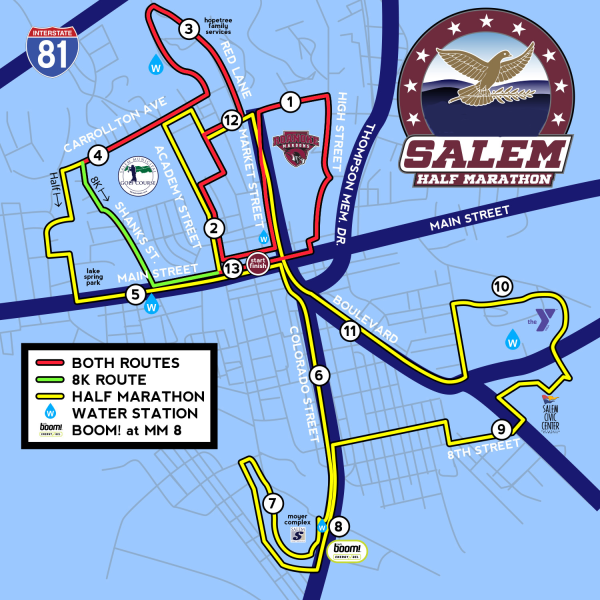 The annual Salem Half-Marathon will return this Saturday as runners of all ages navigate the streets of Salem. The event, which was first held in 2016, takes runners on a scenic tour of Salem through neighborhoods, Roanoke College, and the Roanoke River Greenway.
Salem has partnered with Blue Ridge Racing, the area's leading road race management organization, to produce this event. In addition to managing the Salem Half Marathon, Virginia's Blue Ridge 8K, and the G&H Contracting Kids Run, Blue Ridge Racing handles the race management for the Foot Levelers Blue Ridge Marathon, also known as "America's Toughest Road Marathon".
The Salem Half Marathon and Virginia's Blue Ridge 8K courses all start and finish on Main Street at the Salem Farmers Market, where family and friends line the streets to cheer on the runners. The course is designed to encourage everyone to get out and run and also in a way that is spectator friendly. The course was designed for first time runners who want to accomplish their first Half Marathon or 8K, and for the experienced runner who wants to try and set a new PR. While most of the race is flat, there are some hills that add some difficulty to the course.
The Half Marathon and 8K race will both start at 8 am, followed by a kids' two mile race at 8:05 am and a Kids' one mile race starting at 8:10 am. Close to 900 runners are expected to participate in this year's events.
Check the Salem City website for road closures on Saturday morning and early afternoon.