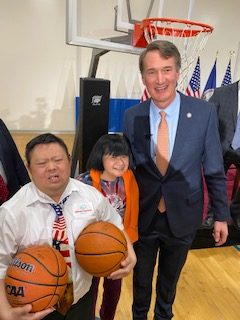 Legislation to help those with developmental disabilities 
Aila Boyd
aboyd@mainstreetnewspapers.com
Salem resident Annie Lin took her son Jerry Wu, who was born with Down's Syndrome, to a bill signing ceremony late last month in at Round Hill Elementary School in Roanoke where Gov. Glenn Youngkin signed legislation to support individuals with developmental disabilities and their families. 
"My son and I were so lucky to be there," Lin said. Wu wore his Special Olympics Virginia shirt and an American eagle tie. "Everyone was so excited."
While at the ceremony, Lin and Wu asked Youngkin to sign two basketballs. "We are so lucky. Thank you so much to the governor. We had so much fun at the event," she said. 
"The bills I'm signing today will improve the lives of so many Virginians, including those with developmental disabilities, who contribute so much to the culture and success of our vibrant Commonwealth," Youngkin said. "We must continue to strive to equip our students with the skills to compete and education is such an important part of that process."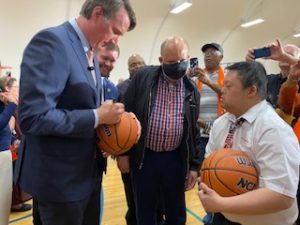 The bills that were signed into law included HB 1963, which regards providing greater financial flexibility through waivers to individuals with developmental disabilities, HB 1554, which requires each public high school to publicly identify on its website the faculty member responsible for special education transition planning, and SB 1430, which requires the Department of Education to convene a stakeholder work group to make recommendations on reducing barriers to and improving the access of paid work-based learning experiences for English language learner students.
Sen. David Suetterlein, who represents Salem, was a patron for all three bills. 
Suetterlein said, "In Roanoke today, Governor Youngkin signed three of my bills into law that will provide greater transparency and flexibility for Virginians with developmental disabilities and opportunities for English learner students. I would like to thank Govenror Youngkin and the many advocates including The Arc of Virginia, the Roanoke City School Board, and the Commission on Youth for coming together around these ideas that will improve the lives of so many Virginians. We are always strongest when we work together and each of these bills will further empower Virginia families to thrive."