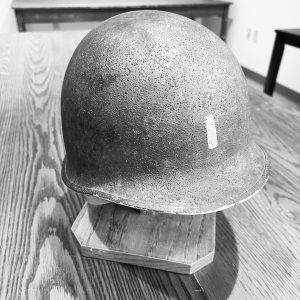 An iconic part of United States military history is the M1 helmet, one of the most successful attempts by the U.S. at making an original combat helmet.
The M1 was introduced for use in World War II.  It covered more of a soldier's head, and provided more protection, than World War I's M1917, a British designed helmet.  The M1 was the first helmet to use two pieces- the iconic outer steel shell and an inner lighter-weight liner.  They were approved for combat in 1941, and were used for many conflicts until their retirement in 1985.
Kids ages 6-13 can see this M1 helmet this weekend during Summer Fun at the Salem Museum!  
Join the Salem Museum on June 10 and 14 for "World War II and the Roanoke Valley."  Learn how local people influenced WWII both at home and overseas.  
All programs are free!
Each hour-long program will be held on Saturdays and Wednesdays at 11 a.m. and again at 2 p.m. The content will be the same at both times each day. RSVP Required. Call 540-389-6760 or email garrett@salemmuseum.org to register.  See SalemMuseum.org for more details.