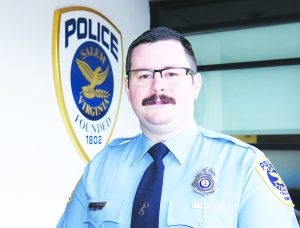 Chris Hayth joined force in 2020
In a time when having the ability to practice proper lifesaving measures is deemed more important than ever, it is truly appropriate that Chris Hayth has been named the Salem Police Department's 2022 Officer of the Year. 
"We are extremely proud of Officer Hayth," said Salem Major Derek Weeks. "He is a young man full of humility who comes to work each shift to serve our community, and his actions represent the best of our profession." 
In November of last year, Hayth was dispatched to two critical calls in the city and rose to the occasion in both instances. For staying calm under pressure, applying the techniques he was taught and for showing tremendous compassion for the families who were involved, his peers voted him Police Officer of the Year.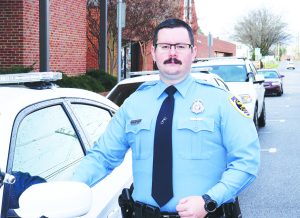 "It's nice to know that you are appreciated in the workplace, but I am not a very prideful person, said Officer Hayth. "I just believe when you have the mindset of being humble you approach every situation knowing it's not about you, but rather about the person you are trying to help to the best of your ability." 
On Nov. 8, Hayth found himself administering CPR for over 5 minutes to an elderly man before medics  took over his care inside a Salem residence. Just 14 days later, he was dispatched to help a 7-month-old infant who was choking in the front yard of the family's home. 
"To be honest, I wasn't 100 percent sure where the address was in the city, but I got there quickly and found the mom holding her child and crying," he said. "Understandably, she was hysterical." 
Like most kids, this one was in the phase of putting everything it picked up in its mouth. In this instance, an innocent piece of a leaf was now blocking the young girl's airway.  
"We could tell the child was choking and not able to breath, so I placed her across my arm and administered infant CPR," he said. "Two taps on the back and the child started crying and breathing again. I then stayed with the mom until the medics arrived and reassured her that everything was going to be OK." 
Being that reassuring voice is not always easy. Hayth relies on his own life experiences to provide true empathy and comfort to others. 
"I have been through quite a bit, so I can relate to a lot of what people are going through," he said. "I try to always have an understanding and a compassion for people, especially on calls concerning family." 
Hayth lost both of his parents before he reached the age of 20. He was just 17 years old and a student at William Fleming High School when his dad died in a vehicle accident, and just two years later his mother also  passed away. 
"At the time, I had two older brothers and two younger sisters and having to help my sisters really  accelerated my maturity," he said. "I did not really get to have those teen years that most people go through, but looking back that probably benefitted me." 
He graduated from Fleming in 2008 where he was in the ROTC and then joined the National Guard for six years as part of the organization's military police. In 2014, he began working private security for various entities in the Roanoke Valley and in 2020 he joined the Salem Police Department. 
Each experience taught him the value of having effective communication and positive people skills. 
"Literally, three words out of your mouth can dictate the outcome of any situation," he said. "What I say can alleviate a situation and often make something that initially seemed really big much smaller. You have to know how to talk to people in this line of work." 
Hayth plans to make a career of serving others through law enforcement and the Salem resident is extremely appreciative of the way he and his fellow officers are treated in Salem. 
"The community support for the police department and first responders is one of the main things that drew me to Salem," he said. "I think it makes it easier for me to do my job if I don't have to worry about being second guessed by citizens. That helps all of us make the right decisions." 
Decisions that are often lifesaving. 
"Officer Hayth has been the example of resilience during his time at the Salem Police Department," said Salem Police Chief Mike Crawley. "He has overcome various obstacles to get where he is today, and he has done so without complaining. He shows up, works hard and routinely puts forth his best effort."