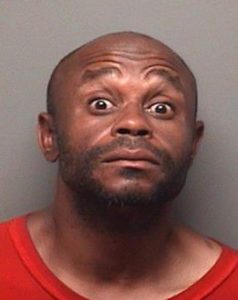 The Salem Police Department announced last week that it had arrested Leonard Childress of Roanoke and charged the 45-year-old with two counts of robbery related to a call for help in the 1200 block of W. Main Street. 
Officers arrived at the West Gate Center after receiving a 911 call about a robbery in progress at approximately 10:15 a.m. last Thursday. A store employee advised the officers that an unknown male subject entered the retail business and demanded cash from the worker who was on duty. 
"The cashier complied with the demand and the subject quickly exited the store with an undetermined amount of money," the department said. "After investigation, officers were able to locate the suspect and positively identify him as the subject who perpetrated the crime. There were no weapons involved in the crime and no injuries resulted from the incident."
Childress was arrested and transported to the Roanoke County-Salem Jail where he remained as of late last week. The department said the incident remains under investigation and anyone with additional information is asked to call 540-375-3083. 
-The Salem Times-Register