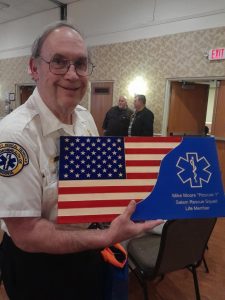 Meg Hibbert
Contributing writer
The second oldest all-volunteer rescue squad in the nation celebrated its 90th anniversary of service to Salem and the Roanoke Valley on Nov 19.
Life Members, longtime volunteers, supporters and friends filled the community room of the Salem Civic Center for the banquet that included remembrances, tributes, laughter and a few tears.
The department first formed in 1932 as the Salem Life Saving and First Aid Crew with volunteers from the Salem Police Department and the street department.
At the banquet, Life Member Mike Moore noted there were not paid members when the squads were formed, and were the only ones in the area who could provide medical care before hospitals.
After the Charlottesville-Albemarle Rescue Squad started the nation's first volunteer paramedic program, Salem had any healthcare professionals to teach and guide its pre-hospital care providers.
At the banquet, Dr. John "Lucky" Garvin and Dr. Gary Parrish were recognized with engraved hangers significant of their years advising the squad.
Rescue Squad officers noted the two physicians were masters of their professions who were instrumental in development and advances of Emergency Medical Services in the Roanoke Valley.
Life Member and Captain Darlene Gee, who was the master of ceremonies, read proclamations that pointed out each of them "gave freely of themselves to teach and mentor many pre-hospital providers, and they quickly became family."
"Many years later, these life savers still have a lasting impact upon providers in the field today," the proclamation said.
Like a number of longtime members, Gee has been part of Salem Rescue since a junior in high school. She is a paramedic and a Registered Nurse at the Salem Veterans Affairs Medical Center.
Some of Salem Rescue Squad's members were the first paramedics in Virginia and hold Life Membership, the squad's highest honor.
Salem Rescue recently added seven new members in the squad's quest to keep growing and remain vital.
Salem Rescue backs up the Salem Fire and EMS when those unit are out on calls.
Kevin Dillard, owner of LifeCare Medical Transports in Fredericksburg, was the keynote speaker. He summarized where rescue squads have been, and where they are headed.
Life Members and former Life Members were recognized at the banquet, along with first paramedics, local elected officials, State Senator David R. Sutterlein, and Congressman Morgan Griffith's representative.
The rescue squad's current home was built on South Broad Street in 1987.
The banquet and program were paid for by Honorary Member Angela Lieb.