By Brian Hoffman
Youth softball and baseball tournaments are being held in Roanoke County this week with Salem and Glenvar teams participating. The Roanoke Area Youth Softball Association(RAYSA) tournaments are being held at Darrell Shell Park in south county and Dixie League baseball tournaments begin Friday at Green Hill Park in west county.

The RAYSA tournaments opened Monday at Darrell Shell, behind Penn Forest Elementary School, and both Salem and Glenvar had teams in the 10U bracket. Salem opened with a win over Vinton and advanced to Wednesday's winners' bracket game. Glenvar fell to South County Red Monday and was scheduled to play again Tuesday in the losers' bracket in the double elimination format.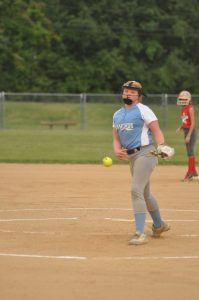 There are also tournaments for 13-U and 17-U softball teams at Darrell Shell this weekend but Salem and Glenvar are not entered. Championship games for the 10-U and 13-U teams are Friday and the 17-U championship is Thursday.
At Green Hill, three 10 and under baseball "AAA" teams will play for the district Division 1 championship this weekend in a three-team round robin. On Saturday Salem will play Craig County, Glenvar and Craig meet Saturday and Salem meets Glenvar on Sunday, with all games at 6 pm. After that the two teams with the best records will play for the championship.
Green Hill will also host a AAA Division 2 series with North Roanoke and Franklin County competing. Those same two areas will also play for the district O-Zone championship, for 12 and under players.