by Brian Hoffman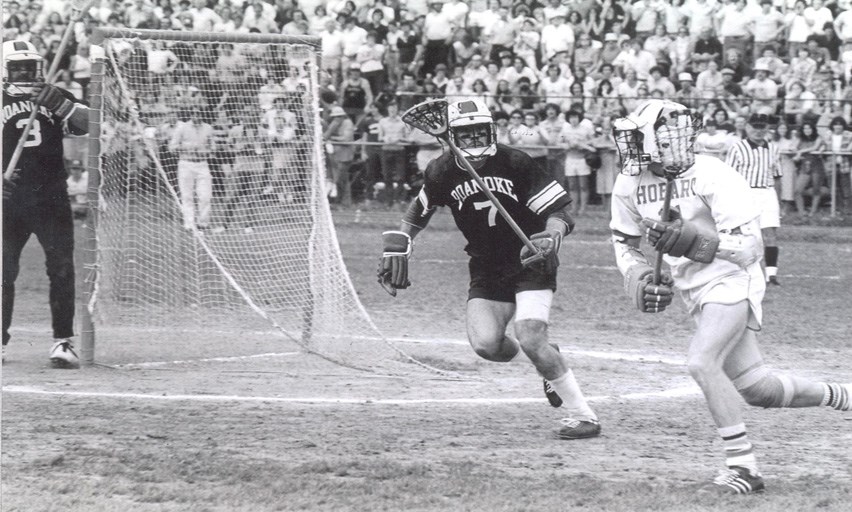 When he got the call, the last thing Salem's Bob Rotanz expected was that he was being inducted into the Virginia Sports Hall of Fame.
"I saw that 757 area code come up and I'd been getting all these calls from a non-profit organization so I didn't answer and decided I'd call back later," said Rotanz. "Then when I called back and found out it was from the Hall of Fame I figured they wanted me to buy an ad for the program. Then he told me I was in it. I never saw that coming."
He should have. Rotanz was one of the top lacrosse players ever in Virginia and a great contributor to the game after graduation. His record speaks for itself.
Rotanz is one of two players in the rich history of the Roanoke's men's lacrosse team to earn National Player of the Year honors. Several have earned an individual position award, but Rotanz's Player of the Year honor in 1978 remained the only such award in team history until Chris Keating's honor in 2006. Bob was also captain of the 1978 South Squad in the North/South All-Star Game.
The induction for the Class of 2023 will be held April 21-22, 2023 in Virginia Beach. 
There will be a welcome reception on Friday, a breakfast on Saturday with a meet and greet and an autograph session for the new inductees. That drew a smile from Bob when he heard that.
Although his skill was best displayed on the defensive end of the field, Rotanz may be best remembered in Roanoke history as the player who scored the game-winning goal in the 1978 national championship contest. Rotanz, who is still a big supporter of the Maroon program, was a three-time All-American during his time in a Maroon uniform. He was the 1978 Paul Griffin and RC Male Athlete of the Year award winner. For his efforts on the field, Rotanz had his jersey retired.
"I'm very honored," he said. "I think there's 25 people on the committee and I was told there's only two lacrosse players in the Virginia Hall of Fame, one male and one female. I'm thrilled over this."
"NFL and Major League baseball players are going into the Hall of Fame with me," said Rotanz with a chuckle. Bob indicated he'd be happy to sign any autographs at his restaurant, Mac & Bob's in Salem, for people who don't want to stand in a long line on induction weekend.
The VIP Reception and Induction Ceremony is scheduled for the Westin Hotel at 5:30 pm on Saturday, April 22. Since its first induction class in 1972, the Virginia Sports Hall of Fame has carried the torch as the official state Hall of Fame for Virginia. It has served its mission of honoring athletic excellence in the Commonwealth through the induction of 345 deserving athletes, coaches, and contributors from all corners of Virginia.
Rotanz is one of nine members of the Class of '23. Others being inducted include DeAngelo Hall (VT-Football), Jimmye Laycock (W&M-Football Coach), Francena McCorory (Hampton-Track), Joe Montgomery (W&M-Distinguished Virginian Award), Shawn Moore (UVA-Football), Jerry Ratcliffe (Sports Columnist), Shelia Trice-Myers (CNU-Track) and Ryan Zimmerman (UVA – Baseball).
"When they told me the people I was going in with I was floored," said Rotanz.
Bob's old teammate, the late John Pirro, was recently inducted into the National Lacrosse Hall of Fame and it was somewhat of a reunion for those great Maroon teams of the late '70s. Bob expects his induction will be another reason for the old gang to have a fun weekend.
"Our group loves to get together and this will be a chance for the guys to see each other," he said.
It's been a big year for the Rotanz family. Bob received the Roanoke College Medal in the spring and he and wife Wendy had three grandchildren come into the world, twin girls from daughter Ryan and a girl from daughter Katie.
"It will be a very special time for me," he said. "but the best part was calling my girls(three daughters) to tell them about it."