By Brain Hoffman
The Salem Red Sox jumped into the Carolina League North Division race with a sweep of the Columbia Fireflies at Salem Memorial Ballpark last week. The Sox put the fly lights out six games in a row to pull within a half game of Lynchburg in a tight North Division race.
The Sox won by scores of 6-2, 6-1, 4-2, 10-5, 6-2 and 7-4 in the sweep of Columbia. Sox starting pitcher Juan Daniel Encarnacion picked up two wins on the homestand, pitching five shutout innings on Memorial Day in a starting role and pitching two scoreless innings in relief Sunday for the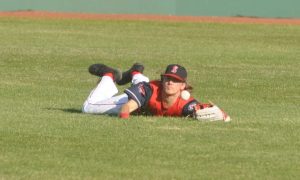 victory. Eddinson Paulino and newcomer Darel Belen and both barreled up two-run homers in Sunday's win while Brainer Bonaci and Blaze Jordan had two hits each.
With the sweep Salem went from a game under .500 to 28-23 and tied with second place Carolina, a half game behind 28-22 Lynchburg heading into this week. Struggling Columbia, a Kansas City Royals farm team, fell to 14-37, the worst record in the 12 team Carolina League and 21 ½ games behind Myrtle Beach in the South Division.
Salem is back on the road this week as the Sox travel to Charleston to take on the Riverdogs, a farm team of the Tampa Bay Rays. The Dogs will be a much tougher opponent as they come in with a 34-17 record and trail Myrtle Beach by just a game and a half in the South.
The Red Sox will next be home on June 17 when they open a 12 game series with six games against Delmarva, followed by six against Fredricksburg. The rare back-to-back home series' will be followed by back-to-back series' on the road as the Salem Fair takes over the Memorial Ballpark parking lot.