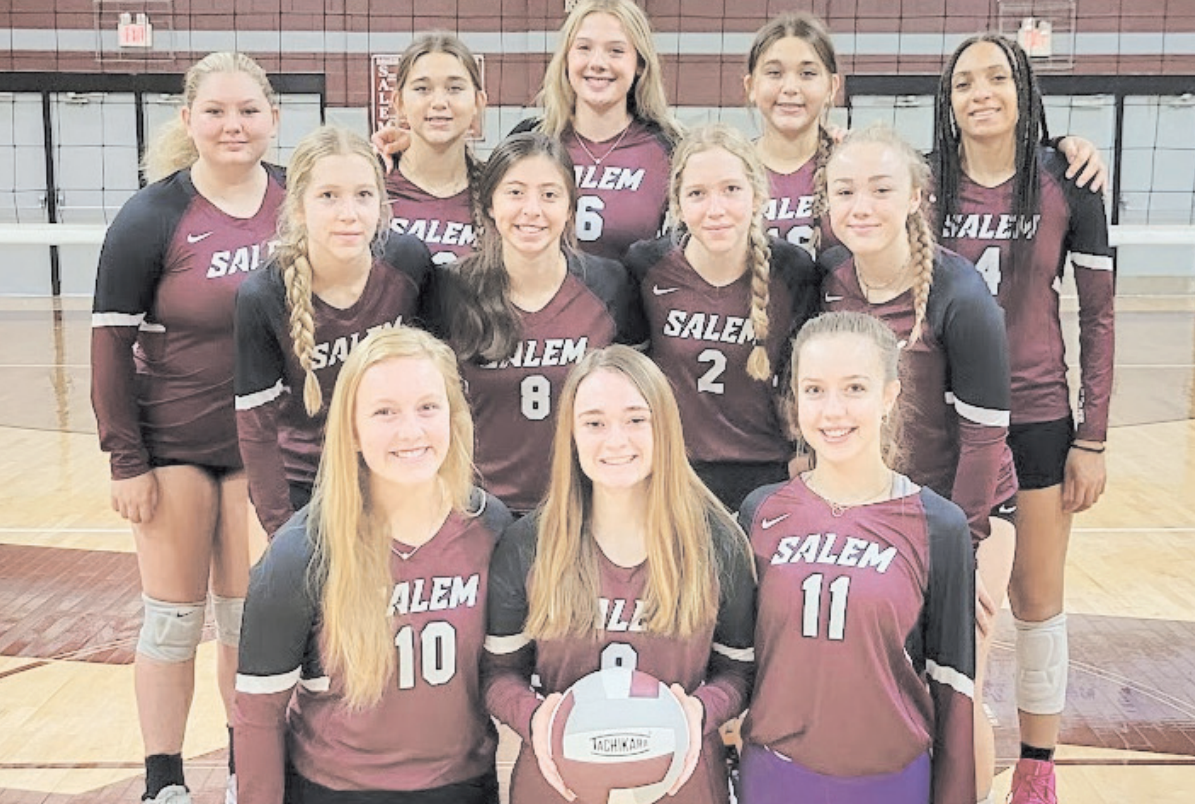 The Salem High girls have a busy week as they open the volleyball season with three matches in as many days. The Spartans opened with a win at Roanoke Catholic on Tuesday, followed by a home match with Northside Wednesday and a trip to Jefferson Forest tonight. Coach Beth Denton has five girls returning from last year's 12-10 team. The Spartans were one win away from a trip to the state tournament in 2022 and graduated six seniors from that team. Returning rising seniors include Makenzie Board, Anne Hayden Hall and Katie Johnson. Board is a third year varsity player who is a setter. "She's a court leader in both her playing style and voice," said Denton. Hall, a fourth year varsity player, is also a setter who will be counted on to step up as a hitter and blocker this year, and Johnson is a defensive specialist who will open as Salem's libero. Also returning from last year's team are junior Myah Crews and sophomore Emme Custer.
Crews was a libero last year due to a shoulder injury, but she's healed and will be an outside hitter. Custer is a middle blocker who played varsity as a sophomore. You might need a roster to know the players this year as Salem has two sets of twins. Tate and Tinsley Thomas are juniors, with Tate setting and Tinsley serving as an outside hitter. Kate and Macy Gibson made the varsity as freshmen with Kate hitting outside and Macy serving as a middle blocker. Three sophomores round out the varsity, middle hitter Gabby Crawley and outside hitters Bailey Redford and Emma Collins. Denton will be assisted by Moriah Moore on the varsity. Carleigh Cunningham is the jayvee coach and former head coach David Turk is a volunteer. "We have a very young squad coming in," said Denton. "We're excited about what they will bring to our team this year as we rebuild. Graduating a large senior class leaves a lot of opportunity for young players to grow and own leadership roles.
We know Tinsely Thomas will be a powerful addition to the outside and we look forward to a strong middle game with Gabby Crawley as our second middle blocker." The girls have high hopes. They went to a camp at the University of North Carolina and finished Gold Bracket, and they went 5-1 in Salem's preseason volleyball jamboree. "The team has set the bar high at the start of the season so we are looking forward to what they can do," said Denton.